By Mark Kalla
Global Village Volunteer
Though I had been on a build to Costa Rica before, I was again surprised that as we soaked our morning breakfast of fruit, eggs, rice and beans in the local Lisano sauce, we ourselves were coated in a mixture of sunscreen, sweat, ubiquitous dust and occasional missed gobbles of juicy fruit, warm drinking water, and sticky children.
We dug long trenches in soil that was rock-like but contained no rocks – – volcanic soil as fine as flour, but compacted to a rockhard state over several millennia. The heat in the cloudless sky climbed with the Black Vultures to record temperatures of 106 and 107° – – causing us to retreat often to the shade after a few swings of a sledge or pickaxe. But we persisted, and in five days transformed an open dusty field into three stilted dwellings for families squatting in "structures" of discarded plastic, tin and lumber.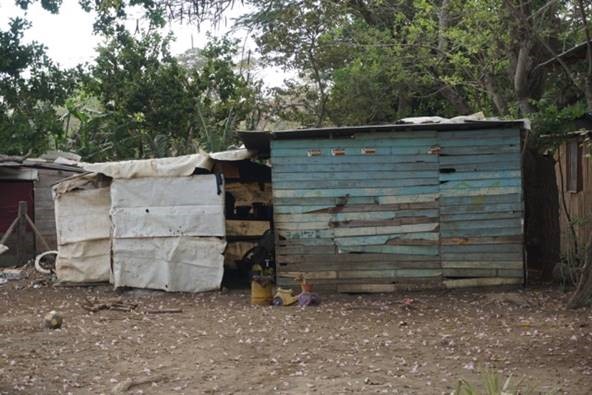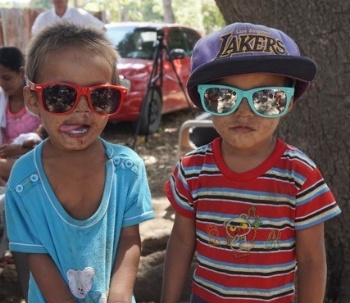 During breaks, we took turns holding babies and playing with the children of the new homes, and of the neighbors who brought not only their barefooted and playful children, but also presents of fresh fruit and bread. Each day we'd race home (well if you call 20 mph on a dust road racing) to jump into the ocean, watch the sunset and hurry back for dinner. Each night we dined under a waxing crescent moon that slowly rolled over in the sky to a tea cup-like crescent – – a meteorological phenomenon I don't understand. But as the moon waxed and the glowing teacup filled in more each night, I was also waxing gibbous, not so much with a belly rich in the cold Imperial beer, but also a heart filled with gratitude for the gifts we received from the 24-year-old mother of six children – – dignity in the midst of despair, and the beauty and love of children who would cling to even those of us who could not communicate well in the Tico language.
Few of us could hold back tears as we pulled out on the last day and a minor dust storm– – each wishing we could give another hug or piece of candy or drink of water to our constant companions of five days. But as the dust slowly fell back to earth I could see Allejandro and Francisco, the twin boys, dancing in happy circles on the plywood floor which framed their new home.