By Kevin Filter
Global Village Team Member
I wish you were here! This is special!
I have had the honor and most incredible opportunity to participate in the Global Village/Twin Cities Habitat build in Costa Rica for the past five years.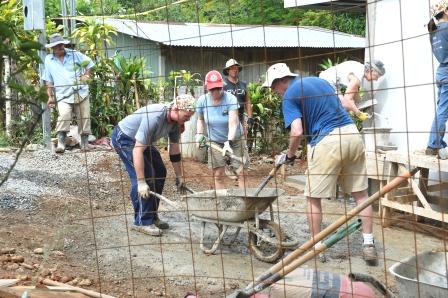 There are three ways of learning, books, people, and experience, but people take center stage on these trips. First, you have the Habitat team that you are traveling and building with, who bring a veritable cornucopia of interests, backgrounds, ages, humor, ideas, skill sets, knowledge, dance moves, abilities, and personalities. Then you have the builders on site, who you work with and interact with and become friends with by the end of the week. And then, most importantly you meet and get to know the family for whom you are building a home.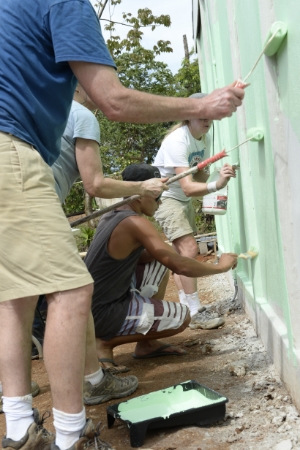 For three of the five years we have built on "project" sites where you don't have the direct interaction with the families. The two years in Buenos, including this year, we have had the opportunity to build for families who are on site. It is incredibly motivating and you get to know on a personal level the people you are building for and their extended families. This is what it is all about for me. The parents, grandparents, aunts, uncles, cousins, and most importantly the children are all part of the relationships you form while building the home. I wish everyone was here to experience this. It gives you such a rewarding feeling to know that the hard work you are doing is going to leave a lasting legacy in a family's life.
The experience side of the trip is not to miss either. First, you are in one of the most beautiful countries and landscapes on earth. Next, the CR Habitat crew brings you to places that are off the radar and not in the travel books, and we also get ideas for places to go and things to do from the locals you are building for and building with and as result end up in places like this afternoon at a river with beautiful pools with cool waters and where you sit and wonder how you are ever so blessed to be in such a place.
Every year when I finish this trip and get back to Minnesota and reality, I think about the richness of the experience, the people I met, what we accomplished and about doing it again next year. Try it, you'll like it!