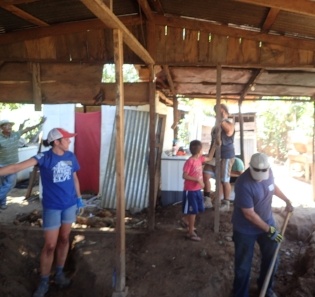 Guest Blog by Jess T.
Global Village Trip Participant
First's
First time on a construction site
This is what I was most nervous about… I have no idea how structures are built; I'm in awe of simple construction projects. I won't pretend I'm anymore in the know and I need a lot of direction on site but it wasn't scary at all! It's thrilling to be a part of the process and incredible to be a part of the progress!
Lucky us!
A few of my friends have vacationed here, they told me about the beautiful resorts and hanging out at the beach all day… they don't know Costa Rica like we now know Costa Rica. This is beautiful country: the beaches are stunning, the sunsets are worth buying more storage on the cloud for the 15,000 pictures I took. But the country is full of poverty as well, dirt floors are common and food insecurity is a regular occurrence. Habitat allows us to be a part of the lives of the people we're serving, an opportunity to see and experience the real Costa Rica; the cultures of the people that make up this beautiful country. Despite the low economic status of the country side we're building in there is a strong sense of community; friends and family are never too far away. Our group was treated to roasted cashews and homemade bread from a brother-in-law and the little girl next door is over every day to shovel sand. We've been blessed to experience the love and strong bond of our family.
More first's:
First time sipping coconut water out of a coconut from a fruit stand on the side of the road
First time jumping in the sea after a hard day of manual labor in 90+ degree temps … 4 days in a row
First time seeing a week of sunrises and sunsets
If you're think of doing a Global Village trip but worried about the first's … don't let them stop you! Every experience here has been eye opening, expanded my understanding of how other's live and encouraged me to enhance my budgeting skills to save for next year's trip!