By Alice Melton
Twin Cities Habitat Staff and Global Village Team Member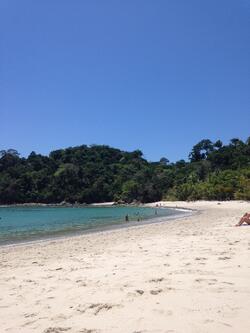 Our last full day of our trip has been pretty spectacular. We are staying in Quepos, a beautiful beach town just north of Manuel Antonio National Park. Our hotel is situated in what feels like the middle of the jungle. If you wait quietly for long enough, you will be visited by all sorts of critters. It rained the night that we arrived, and as I was sitting outside and enjoying the beautiful night, I spotted geckos, mapache, zarigueya, and a zapo. Admittedly, most of those are also found in the US, but it set the stage well for the following morning's R&R activity: a trip to Manuel Antonio National Park.
Manuel Antonio is Costa Rica's smallest National Park, but it certainly packs a punch. Its biodiversity is unparalleled, and the beauty of its beaches made this Ocean Stater swoon. Throughout the course of the day, people in our group spotted sloths, howler monkeys, capuchins, iguanas, and countless birds & butterflies. The water along the light sand beaches was the warmest ocean water that I can remember. I could have stayed in there for hours. Luckily, when it came time to leave it was for a good cause. We spent the rest of the afternoon watching the sunset and enjoying each other's company one last time on a hilltop overlooking the Marina. The 3 hour bus ride back to San Jose was a good time to reflect on the past week working to build safe, decent, and affordable homes in Costa Rica.
Working with Habitat Costa Rica has been incredibly rewarding. We have been able to meet and form connections with the families who will be purchasing the homes standing on the ground soaked with our sweat (seriously-- there was a lot of sweat). We immersed ourselves in the community and saw the difference we were making on the faces of the schoolchildren. We've made our own friendships that we are lucky to be able to continue here in the Twin Cities. And we all learned a lot about how Habitat's mission is having an impact across the world. I can only hope that the spirit of pura vida will live on in each of us, even as we head back to the Twin Cities to put those shoveling muscles back to use on our driveways and sidewalks.