By Robert Paquin
Global Village Team Member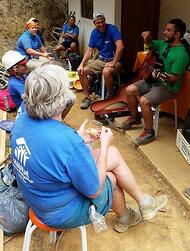 I can't believe that Friday is upon us and have now parted ways from our new Costa Rican family. It was a bittersweet departure since the work we wanted to continue had to come to an end. What this group was able accomplish within the past week was astonishing! From spending multiple hours in a 140cm trench, mixing batch after batch of concrete for the whatever depth holes we dug earlier, to putting up the walls of Marcela's and Heiner's new home. Even though a structure stands, there were still many tasks that need to be completed.
The final workday came to end beginning with yet again a delicious lunch and a sweet jam session. Marcela showed up with Heiner and I, as well as everyone who has put blood, sweat and tears into this house, didn't want the goodbye to end. With many hugs and pictures to show our progress and our dedication to help someone so deserving of further strengthening her family and community, we left with high spirits.
This has been one of the best weeks of my life getting to know the people who I have been working with and meeting the future homeowner and her loving and welcoming family. Costa Rica is an amazing country and I hope everyone has the opportunity to have such an extraordinary experience that I have been able to have here.