Each year, volunteers and supporters rally together as part of Twin Cities Habitat for Humanity's Women Build. The Women Build program creates an empowering space on construction sites for people from all backgrounds and experience levels. Volunteers gain new skills, build community, and contribute to the construction of affordable homes across the Twin Cities.
Women Build 2022
This year, Women Build volunteers are heading out to construction sites across the metro area throughout the summer and fall. We need your help! Grab a few friends and sign up for a volunteer day that fits your schedule.
Browse all our available upcoming volunteer opportunities here. You'll find Women Build opportunities from now through October and in every corner of the Twin Cities region—from Chaska to Bayport, Minnetonka to Farmington. Check back often, as we may add more opportunities later this summer and fall.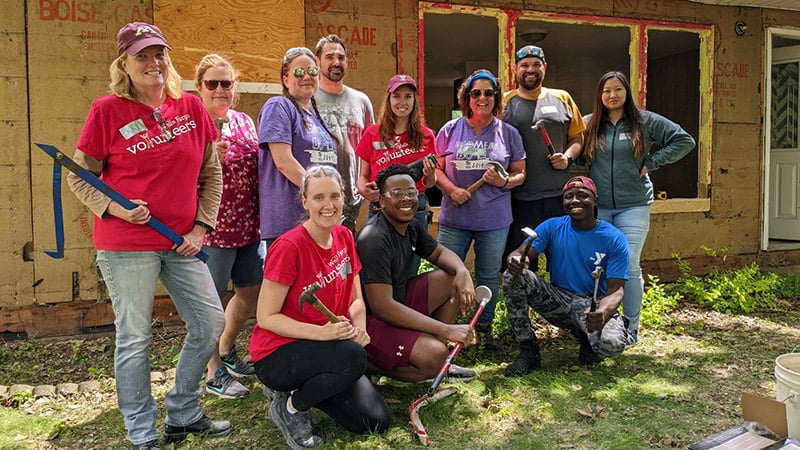 Employees from Wells Fargo volunteering on a Women Build project in June 2022
You can also get involved with Women Build by organizing a Team Leader Day, fundraising in your network, or by joining the Women Build Regular Crew. See more details below:
Organize a Team Leader Day
Team leaders recruit a group of 10-15 volunteers for a full day on a Habitat construction site and they raise/donate $1,500 to support the day's work. This is an excellent team-building day and a great way to give back alongside friends and family. Learn about becoming a Women Build Team Leader.
Volunteer as part of the Women Build Regular Crew
You can also volunteer consistently on Women Build homes year-round as part of our Women Build Regular Crew. You'll work alongside like-minded volunteers and help facilitate their experience on site. Learn about the Women Build Regular Crew.
Fundraise for Women Build
Want to support without lifting a hammer? Fundraise for Women Build! Women Build projects are not possible without financial support. Our goal is to have Twin Cities women both build and fund the year-round work of the Women Build Program. Any level of contribution is appreciated. You can donate online and create your fundraising page here.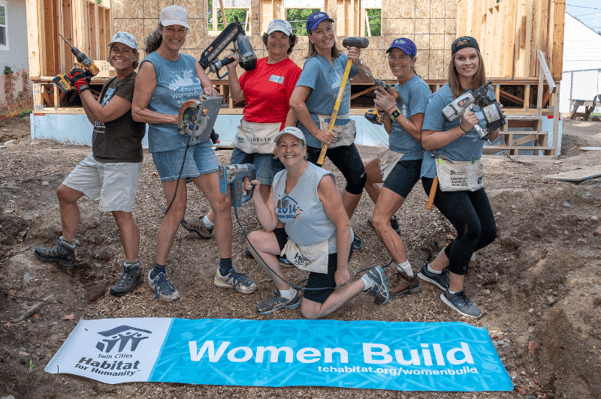 Women Build volunteers showing off their favorite tools.
Women Build by the Numbers
The first Women Build home in the Twin Cities was built in 1992, and local volunteers started building annually in 1999. Since then, Women Build has built 28 homes from start to finish in the Twin Cities Metro area. Women Build volunteers have contributed to the construction of countless other new homes and home repair projects.
Each year, more than 1,000 volunteers contribute to Women Build projects and dozens of team leaders rally their networks to participate. It's a true community effort!
Thanks to high demand and amazing engagement, the Women Build program has grown and changed over the years. We're lucky to be guided by a steering committee of volunteers who meet monthly, recruit participants, lead outreach, coordinate volunteers, and help raise funds. We've also added Women in Construction Week in March to celebrate women's contributions in this male-dominated field, coinciding with International Women's Day. Every year we also celebrate International Women Build Week with special build projects and online engagement activities.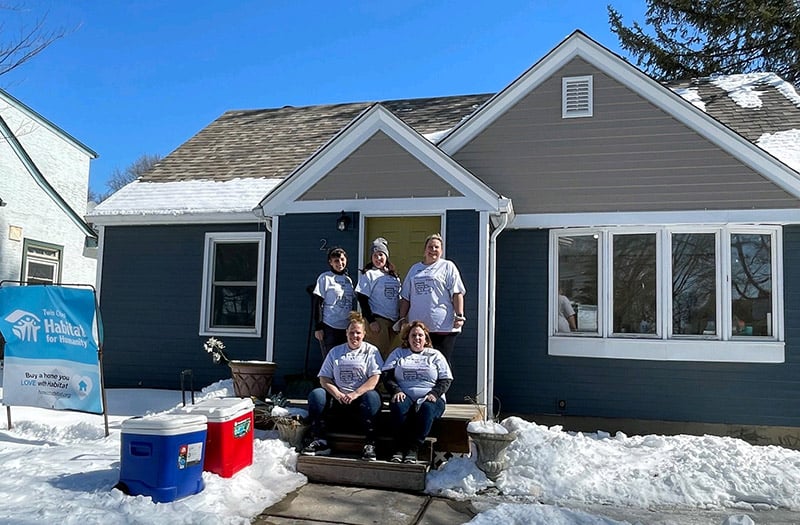 Volunteers from the National Association for Women in Construction participated in Women in Construction week in March 2022.
Women Build volunteers love to build community. Volunteers connect with one another on our Twin Cities Women Build Facebook group, share lunches during build days, and come together for special events at the start and end of each build. Our most loyal volunteers also recently formed a Women Build Regular Crew for those who come back to site week after week.
On top of volunteering thousands of hours each year, our amazing Women Build supporters also contribute financially to support Habitat homebuyers. Just in the last 17 years, the program has brought in more than $2.6 million to help build homes and make homes affordable for local families.
Thank you, Women Build supporters and sponsors!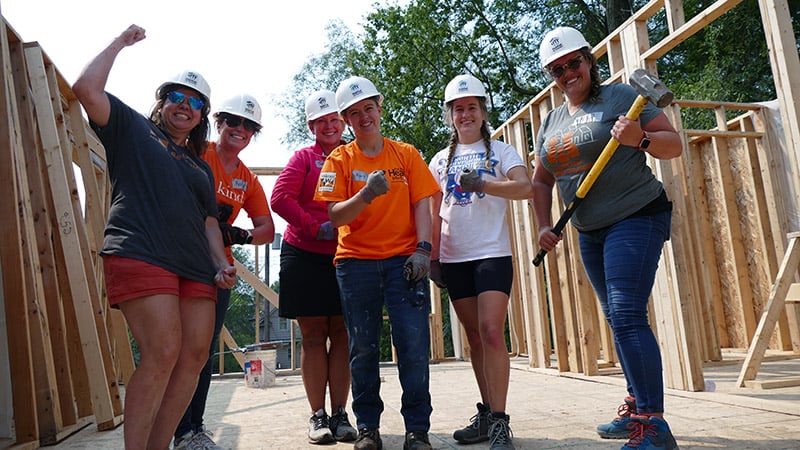 Women Build volunteers from Andersen Corporation in 2021
Empowered People Build
Of course, all people are welcomed and supported on every one of our construction sites and home repair projects. Whether you're on a Women Build site or any other Habitat project, volunteers will gain new skills, learn from others, build camaraderie, and be part of creating a home for your neighbors. Our field staff strive to create environments that foster respect, inclusivity, and learning. We don't tolerate harassment, bullying, belittling comments, or insults—so please leave all that at home.
On every Habitat site, you'll work with an experienced Site Supervisor and Construction Volunteer Facilitator. They'll empower you to develop new skills, cultivate current strengths, and step safely outside of your comfort zone.
Browse Women Build volunteer opportunities here. Or check out all our upcoming volunteer opportunities here. Either way, we hope to see you on site soon!