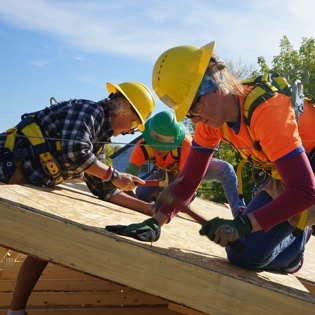 Eight years ago Sheila Kennedy got an email from Twin Cities Habitat for Humanity about joining a Global Village build in Mexico. The invitation was very unexpected, considering the fact that Sheila lives in Glendive, Montana, well out of the usual range of volunteers for Twin Cities Habitat. Nonetheless, she decided to go on the trip.
In Mexico, Sheila worked alongside volunteers from Minnesota, making friends with several of them. One of those volunteers told Sheila about Women Build. Since her parents had originally been from the Twin Cities area, and since she had friends in the area, she decided to signup to participate in a Women Build project in Minneapolis. She and her partner have been coming back to Minnesota to participate in a Women Build project ever since.
Sheila smiles when she tells the story of her accidental recruitment. She still doesn't know why she got the original email, but she's glad she did.
While waiting for the noise of a saw to die down enough to be heard, she couldn't help watching her fellow volunteers. When the saw stopped momentarily, she said, "It's wonderful to work with all these women. We work hard and have a lot of fun!"
When asked why she makes the drive from Montana every year, she said, "I've always believed in giving back. Being able to give someone a helping hand means a lot." She hoists the hammer in her hand. "Besides, I love learning new things and you never know what you're going to learn on a Women Build project."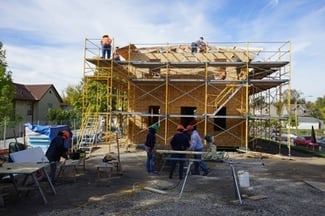 Seeing Sheila's enthusiasm for being part of the Women Build team, and hearing about her dedication to giving back, it's easy to believe that the errant email that started it all wasn't an accident, at least not for whatever spirit guided the email to Sheila's inbox.
Helping to build a home for a hard-working, low-income family holds many rewards. However, when you combine those rewards with the fun of working alongside a remarkable group of dedicated women, it becomes an experience worth remembering, and repeating.
To learn more about becoming a volunteer with Women Build, or with any Habitat homebuilding project, just follow this link and we'll see you onsite!