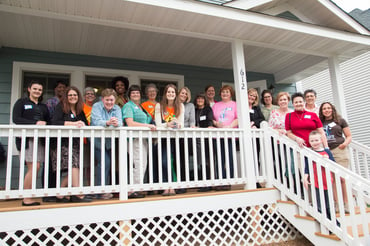 Every year, Twin Cities Habitat's Women Build program sponsors and builds two Habitat homes and repairs another through A Brush with Kindness. Women Build was started in 1992, and engages women from all walks of life who want to make a profound difference for families and the community. Each year, over 1,000 women come out to build, learn new skills, meet other volunteers and make a tangible impact in their communities.
Last week, Women Build leaders, volunteers, sponsors, Habitat staff, supporters, and community members gathered to celebrate the completion of the 24th Women Build home and the completion of a Habitat home in White Bear Lake.
It was a joyous occasion for the two homebuyer families, but also for all the volunteers that invested their energy into these homes. Many of them rushed upstairs or out to the front stoop to see how their work looked. They happily compared notes about what stage the house had been in last time they were there. "It was just grass"... "We put up the drywall"... "The whole front yard was out to the curb before they put the retaining wall in."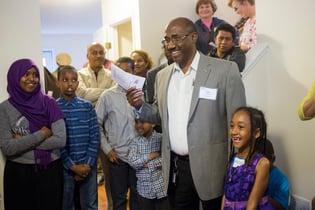 The volunteer force behind Women Build is truly inspiring. The Women Build Committee, headed by Lori Dewey & Michelle Gierke, take a blank calendar each year and fill in over a thousand individual volunteers. Sharon Mason, a longtime Women Build volunteer and representative of Twin Cities' Board of Directors, said of the volunteer experience, "we all feel some ownership over these houses. We've invested in them and [to the families] in your futures here. We wish you a lifetime of memories in your new homes."
This was Katie Ulwelling's third time as Site Supervisor of a Women Build. "It is always so fun and supportive. Everyone is willing to take on anything, even shoveling rock out of the basement."
St. Paul City Council Member Amy Brendmoen spoke about the impact of Habitat homes in the neighborhood. "I remember driving around a few years ago (with community members and Twin Cities Habitat staff). The house that was standing here had been on fire and looked pretty bad. I think I said, 'I would do anything if that was a Habitat home' and look what happened! It has been so special to see that dream come to fruition."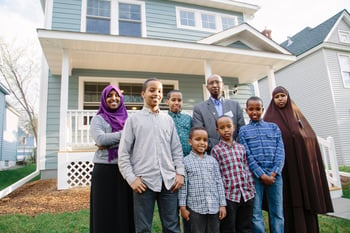 Both homebuyer families shared what makes moving into these homes so special. "Nothing can compare to having a big, new home like this. My family is so happy to have space and freedom to play in their own backyard," said Ahmed.
"(Owning a Habitat home) is not just a home, it is a future. We are excited to put down roots in the community. Roots that will flourish here. My wife and my family dreamed of this home. It is because of them that we are here today. I see the happiness in their faces and in all of your faces.... they should really call it Happy-tat!" said Balla.
Find more pictures from this dedication here.
Celebrate National Women Build Week (April 30 - May 8) by volunteering on the 25th Women Build home.