More than 100 people gathered in South Minneapolis this week to dedicate Ali Diiriye and Maryan Elmi's new Habitat home, which was sponsored and constructed by Women Build. From fundraising through construction, this group builds two Habitat homes each year and repairs another through A Brush with Kindness. The crowd at this upbeat home dedication had a chance to hear about the homebuyers' experiences with Twin Cities Habitat for Humanity and learn about Women Build's empowering work.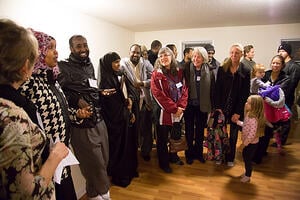 Surrounded by their friends and family, Ali and Maryan expressed their excitement for their home and their immense gratitude for the opportunity to partner with Habitat and work alongside Women Build. Ali and Maryan moved to the United States in 2009 from Somalia. They have 3 children: Umulkheyr (9 years), Zaitun (4 years) and Ahmed (3 years).
Their two younger children were born with an undiagnosed neurodegenerative condition which keeps them both bed- and wheelchair- bound. This home was specially constructed to meet the accessibility needs of Ali and Maryan's children, including a track on the ceiling to support a lift for increased mobility from room to room, wider doorways, and a bathroom with special safety features. Ali and Maryan invited a number of medical specialists who support Zaitun and Ahmed to be recognized as an extension of their family.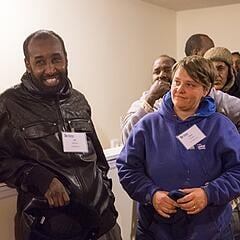 While he spoke, Ali asked that Terra Lumley, the site supervisor on the home, be by his side. He expressed that Terra was an incredible supporter and teacher during his on-site work to fulfill the sweat equity requirement. Terra thanked Ali for his energy and optimism and shared how exciting it was to work on Women Build's 22nd Twin Cities Habitat home.

Lori Dewey and Michelle Gierke, Women Build Co-Chairs, said that it was awesome to be a part of such important work and that they felt fortunate to help construct a home for this wonderful family. Yvette Mullen represented the TCHFH Board of Directors in congratulating the homebuyers and praising Women Build for being an amazing program that "brings women together, stretches their comfort zones, and empowers them to make a difference in our community."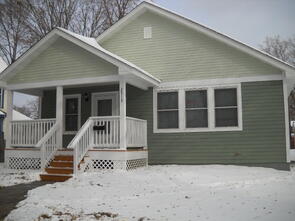 Cristen Incitti, Director of Family & Community Programs, spoke on behalf of Twin Cities Habitat. She first spoke to Women Build supporters saying, "The work you do to empower women is crucial to Habitat's mission." This house is particularly special to Cristen, because she and her Family Services staff have worked hard over the last few years to try to build more homes that meet the accessibility needs of all applicants. Cristen also recognized the homebuyers' hard work to reach this point, including hundreds of sweat equity hours and homeowner training. "You really earned this. We couldn't do this without you and your family."

If you missed this event but want to see what dedications are all about (and you should—they're awesome), check our upcoming dedications schedule. For more photos from this home dedication, see our Flickr.