Last night, over 30 women gathered to learn more about leading a team during the 2015 Women Build season. Team Leaders are in charge of recruiting and leading a team of volunteers for a work day on a Women Build construction or A Brush with Kindness site. The meeting served as the official kick off to the 2015 Twin Cities Habitat Women Build season.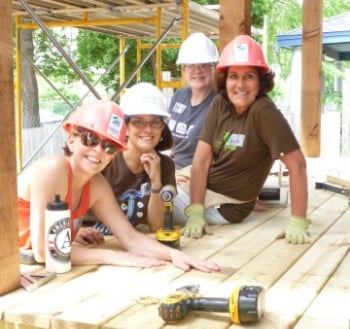 Twin Cities Habitat's Women Build program was started in 1992, and attracts women from all walks of life who want to make a profound difference for families and the community. Together, teams of women build two Habitat homes each year and repair another through A Brush with Kindness. Best of all, no construction or repair experience is needed!
"Habitat is an organization that empowers women as homeowners, volunteers, philanthropists and community members," said Riley Moynihan, Constituent Engagement Senior Associate at Twin Cities Habitat. "Women Build really embodies that sense of empowerment. Each year, over 1,100 women will volunteer on a Women Build site where they'll gain new skills, meet new friends and make a tangible impact in a way that they often haven't experience before. We are proud of all that the program has accomplished and excited to break ground on the 24th Twin Cities Habitat for Humanity Women Build home in May!"
This year, Women Build will tackle a home build in St. Paul starting May 11, running through July 31. They will start on the second home in Minneapolis on October 6.
Lisa Belvito has volunteered with Habitat's Women Build program for ten years and recently shared what her first experience was like:
"I showed up for my first build experience with this crew called Women Build in North Minneapolis. And I was hooked! Despite the fact that I was a newbie, every woman on the site was warm, welcoming, and willing to teach me anything I wanted to learn. It became quickly clear that this is one of the greatest things about Women Build; this willingness to help and to teach with patience and make it fun at the same time."
Want to hear from other Women Build volunteers? Check out some of the Women Build Volunteer Profiles! Interested in receiving more information about build dates and the Women Build program? Sign up for the Women of Habitat Newsletter!