Did you catch Women Build on WCCO-TV? Check it out. That's some of the volunteers from Mortenson gathered around WCCO Reporter Edward Moody III (we had a great time together at 5am!). The media attention is well deserved. This is the 22nd home that Women Build has built through Twin Cities Habitat for Humanity. Work on the 23rd will start in South St. Paul this fall.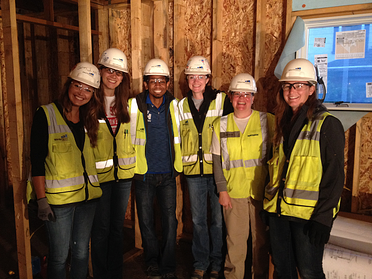 We've got to give lots of love to our two top Women Build sponsors this year: Wells Fargo and the Hugh J. Andersen Foundation. But there's plenty of thanks to go around. We'll have roughly 60 Team Leader Days on the two Women Build homes this year. A Team Leader commits to organizing a crew of 15 volunteers and raising the $1,500 fee that goes toward building materials and other construction expenses.
Many companies also sponsor volunteer days on the Women Build homes. Kari Henry, who works at McGladrey, organized her co-workers. McGladrey got involved with Habitat through Entrepreneurs House several years ago.
"The company is serious about being a part of this community and giving back," says Kari. "It was really easy to recruit volunteers. I just sent out an email."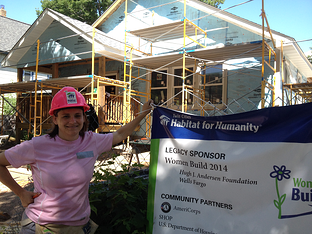 Volunteering on Women Build went so well for McGladrey last year that Kari asked her boss if the company could sponsor two days this year. They said yes - with one condition. The second day (which will be on the South St. Paul home this fall) has to be a day where McGladrey employees bring some of their clients to volunteer with them. Volunteering=Networking! We think this is a great idea for companies looking for ways to improve their relationships with clients and customers.
Some volunteers are still needed to help finish the current Women Build home, and there are a few Team Leader slots to fill on the South St. Paul home. Here's where to go for more info on getting involved with Women Build.
Women Build homes are always special, but the current one has some unique features specifically designed for the family buying it. Ali and Maryan have three children and two of them have epilepsy. The home is being built with a track in the ceiling that'll support a lift which will allow the kids to move from one room to another much more easily. The doors are extra wide too and the bathroom was designed with special safety features.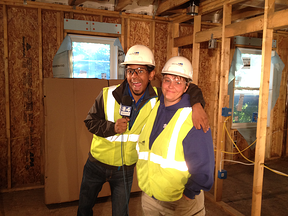 Terra Lumley, the Site Supervisor on the home, says the accessibility features have made for some extra work but it's all worth it when you think about how much it'll help the family. Ali, who is the father and works as a personal care assistant, got in a lot of his required "sweat equity" hours early on in the build.
Along with the hundreds of hours of volunteering, Ali and his wife must pass Habitat's 11 homeowner training courses before they'll be allowed to close on their home and sign their Habitat mortgage. Then, each of their affordable monthly payments will be used by Twin Cities Habitat to help build more homes for more families to buy.
That's the double empowering power of Women Build. First, it gives some women the chance to break out of their comfort zone, maybe run a few power tools and see the results of their hard work. Second, the homes empower the families to really reach for bigger dreams and a brighter future. If this sounds likes something you'd be interested in please join us!