2015 marks a big milestone for Women Build – the building of the 25th home! The build season began in May with the ground breaking of the 24th home in St. Paul. In October, work started on the 25th home located in Minneapolis. Over 1,000 women volunteered to build with Women Build this year.
In mid-November the Women Build Committee, Team Leaders, and Crew Leaders celebrated another successful season of Women Build at the Women Build Leader thank you event. During the event we looked back at all the Women Build homes built since Women Build began in 2001. It was fun to see how the styles of homes (and clothes) have changes, and a few familiar faces of site supervisors and regular volunteers showing up throughout the years.
The 25th Women Build home also marked Habitat Site Supervisor McKinsie Clyde's first Women Build. Volunteers describe McKinsie as amazing, very knowledgeable, helpful and our fun, fearless leader.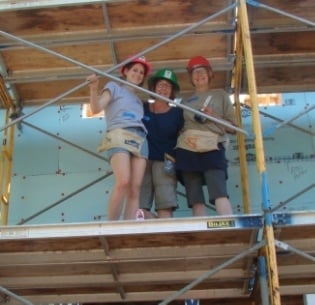 It was also a year of generational builds. Many mother daughter duos took on the builds. "It was great to see my teenage daughter gain confidence using power tools throughout the day," said Lisa Korslund. "It was amazing to get out and do something different with my family. None of us have ever helped build a house before," stated Julia Brauchle (pictured left with mom, and great aunt).
During the Women Build celebration we recognized the women who organizes our Crew Leaders, CJ Fitzsimons. CJ has been involved with Women Build since 2011 when she retired from the Air Force. CJ volunteers at least once a week with Women Build as a Crew Leader where she gets to share her skills and teach others new ones. Volunteers got a chance to share their favorite CJ stories and memories; the stories ranged from CJ bringing tax forms to an AmeriCorps member who didn't have a computer, to CJ being star-struck meeting her favorite Lynx players at a Women Build kickoff. It became increasingly clear throughout the evening that it was the community and the little things that matter the most in life.
Each year women volunteer with Women Build to learn new skills, meet new friends, and help build a new home for a family in need of a safe and stable place to live. Women Build attracts women from all walks of life who want to make a profound difference for families and the community.
We will still have individual opportunities to finish the homes up during the winter! Sign up here to volunteer at the build in St. Paul or at the build in Minneapolis.
A big thank you to all the corporations, friends, families and congregations that participated in Women Build this year!