Guest blog by Bryce, Regular volunteer & Pax Christi Crew organizer
I am a retired social worker from Hennepin County. One of my responsibilities during my last 15 years was managing a supportive housing program for adults who had minor children and themselves having cognitive limitations. We worked with private landlords and spent much of our energy teaching the recipients of the housing subsidy how to be a good tenant, good neighbor, and responsible for the place you call home. For most of the families, this was their first experience having a home of their own and somewhere safe to live.
In April of 2002, my son and I started volunteering with Habitat. Luke and I went through two evening orientation classes together. Because I was still working, I committed to volunteering every other Thursday and had the good fortune of joining the infamous St. Paul Regulars (the oldest continuous regular volunteer crew). Erv Barrett and Paul Arends, as well as others, took my son and me under their wings and began to patiently teach us how to build homes.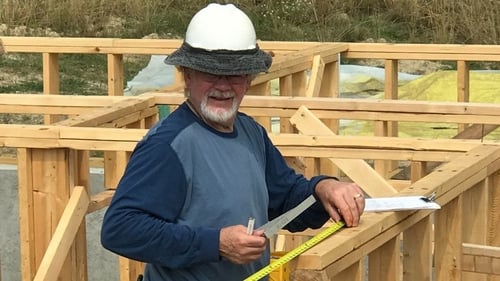 We started working in East St. Paul, driving from Chanhassen every other Thursday. We were promised that we could join a crew on the metro west side in the fall so we would not have such a long commute. After a few Thursdays, my son got a summer job that conflicted, so I continued to go by myself. Fall of 2002 came, but the St. Paul Regulars were such an amazing group of men and women that I remained with them until 2014 when I retired from Hennepin County.
After retiring, I began to volunteer weekly on several homes being built in Bloomington, Chaska, Prior Lake, and Richfield. I have had the good fortune to follow David Michaelson, Skip Schmall, and Zack Zoul (all Habitat site supervisors) to different build sites in the West metro since my retirement. These guys graciously accepted me on their build sites every time.
In the summer of 2016, I had the good fortune to work a day with several Pax Christi members on a serious exterior facelift of a house in Minneapolis. During lunch (catered by Pax Christi members) I visited with several women who lived in Chanhassen but worshipped at Pax Christi in Eden Prairie. I questioned them about this and was told I would just have to come and see for myself.
The following Sunday, my wife and I went to Pax Christi for Sunday Mass and felt a sense of community that we had not felt in any of the previous Catholic communities we had belonged to. We joined Pax Christi soon after. Pax is a large congregation that focuses on "Justice" and a theme of "All are welcome." Despite the size of the community, it does not feel large and there are numerous Justice ministries and outreach opportunities available.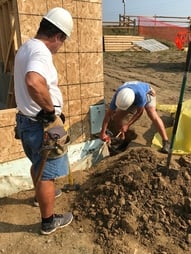 I volunteered with a number of different ministries at Pax and decided that it was time for Pax Christi to have its own crew. I had watched Dutton Foster lead the St. Paul Regulars for many years and decided to embark on recruiting and developing a "regular crew" at Pax Christi. It began with an announcement in the church bulletin and then holding an informational meeting after a Sunday mass in November 2019. There was a fair amount of interest. Then COVID-19 hit just when we were starting to hit our stride. The present crew is about half Pax members, and the other half are others I've met over the years and volunteers that live in the West metro.
I just began another recruitment at church now that COVID restrictions have decreased and crew size can be larger. In the past four weeks, we have had nine new volunteers join the crew, and we are ready to fly on to the next twin home in Chaska.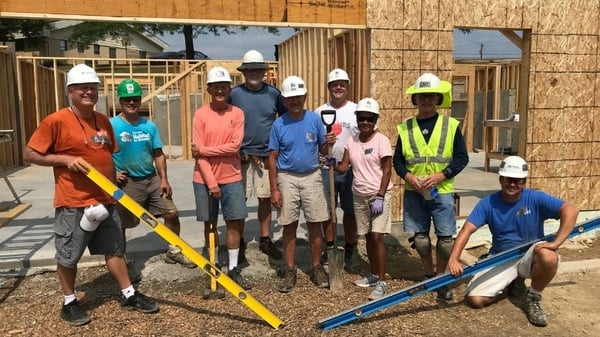 In the Pax Christi crew, we enjoy each other and work well together, with some good teachers and eager learners. Many of us have elderly parents and many of us are grandparents, so conversation at lunch is often around these themes. It is also a crew that likes to travel within the USA and beyond. Skip Schmall has been a great site supervisor in Chaska for this developing crew.
If you've considered volunteering, you should really check it out. You will never be forced to do anything you are uncomfortable with, and you'll be encouraged to try out new skills as you desire. Friday builds are almost as good as being on the golf course or at the lake. When I was working, I always used to say that my worst day on a Habitat site was still better than a good day at the office. You will never know how fulfilling it is to build houses for those who need them until you have come and tried a day at Habitat.