What does home mean to you?
For many of the families that we partner with, a home represents safety, stability, and the opportunity to build a better life.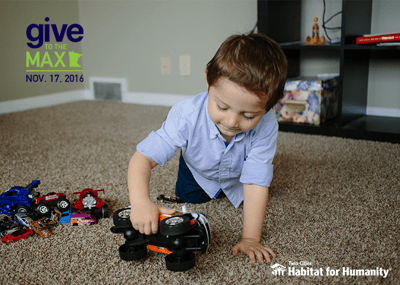 That's why we've set an ambitious goal for Give to the Max Day this year: we want to raise enough money through one day of giving to enable us to build a Habitat home! To reach this goal, we'll need generous donors and willing supporters to help us spread the word.
We're asking all of our volunteers, current donors, community partners, and advocates to join us our Give to the Max fundraising effort. There are many ways you can help:
From Nov 1 - 16 schedule your gift for Give to the Max Day, or make a gift on Nov 17
Sign up to become a Habitat Builder and create your own fundraising page with opportunities to win great prizes!
Encourage friends and family to make a donation by sharing our page via email and social media.
Double the Impact of Your Gift
You also have the opportunity to take advantage of matching gifts on our project pages, thanks to Jennifer and Herve Sarteau, generous donors, and Twin Cities Habitat staff! These matching gifts mean that we will be able to build not one, but TWO Habitat homes through Minnesota's annual day of giving!