Hundreds of women—and a couple dozen men—filled the Hyatt Northstar Ballroom in downtown Minneapolis for the 4th annual Women of Habitat Hope Builders Fundraising Luncheon this past Tuesday.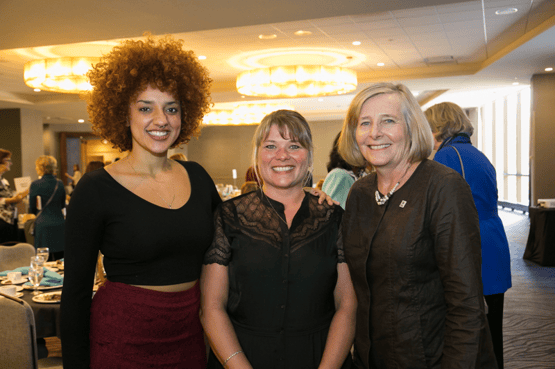 The luncheon raised an unprecedented amount—and the highest since the luncheon's inception—nearly $109,000!
Many guests shared that they were deeply moved by Shauna's speech about growing up in a Habitat home. Shauna, now a sophomore at Lawrence University in Wisconsin, flew in on her day off from classes to share a powerful message on how having a stable home changed her life.
"I'm now 19 years old and fully capable of understanding the great blessing Habitat for Humanity has provided to my family. Safety, stability, and a solid home structure allowed me to focus on my education," Shauna said.
Guests were also inspired by our signature luncheon panel discussion. Each year, the Hope Builders Luncheon focuses on a prominent issue in the Twin Cities and its link to housing. In response to a Wilder Foundation study this year, Dr. Maykao Y. Hang, President and CEO of the Amherst H. Wilder Foundation, facilitated a panel discussion on how stable housing impacts the education of children in our community.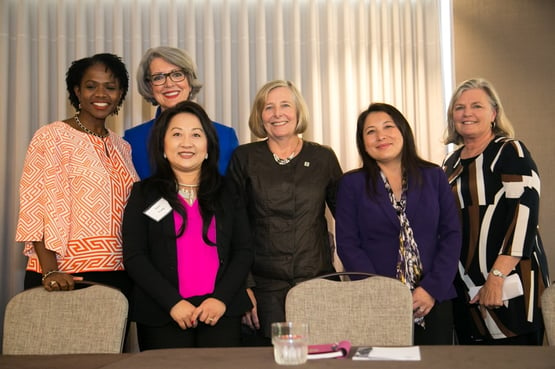 The distinguished panelists included: Becky Roloff, President of St. Catherine University; Sondra Samuels, President and CEO of the Northside Achievement Zone; Yeu Vang, Principal of Jackson Elementary; and Kathy Tunheim, Principal and CEO of Tunheim.
Guests nodded in agreement and took notes as panelists spoke passionately about housing and education.
"We have the largest opportunity gaps in educational attainment, household income, and homeownership across racial lines...the combination of those three things really is a social justice issue," Sondra said.
"If I had a magic wand, I would like for every child to have a sparkle in their eye when they say they are going home for the day. They all need to know that they have a warm, safe place to be. And when they're not going to a warm, safe happy place, every single day we start over again with them," Yeu said.
"Those of you in the nonprofit world and those of you in philanthropy, we need your leadership in helping us to think about this intersection of education and stable housing," Kathy said.
"Remember always to thank the people who have boots on the ground; who are actually doing the day-to-day work...we cannot let those schools fail; we cannot let Northside Achievement Zone fail—because those who will be critics will point to it and say it didn't work, we're not going to put any money there, versus saying it worked and it's working so lets help it keep working," Becky said.
This event, organized by the Women of Habitat Luncheon Committee, proved to be a great opportunity to generate support for Twin Cities families and shine light on the importance of stable housing in education. Planning is already underway for next year's Women of habitat Hope builders Luncheon—we hope you'll join us!