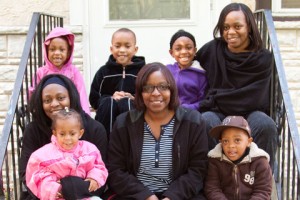 If Betty Jones' walls could talk, they would have some success stories to share.
Nearly twenty years after moving into her Habitat home in Minneapolis, the numbers only begin to tell the story: Three hundred hours of sweat equity. Two now-grown daughters (Lynnisha and Simone). Five grandchildren. Countless friends and community connections. One house paid in full.
Back in 1990 when she became a single parent after a divorce, Betty thought she would have to move back to Illinois to be closer to the support of her family.
"That time in my life was chaotic," says Betty. "We were moving every six months to a year. We had no stability, and transitioning all the time was very hard on my girls."
Only working part-time then, Betty thought she couldn't afford a house—until she learned about and qualified for a home through Twin Cities Habitat for Humanity. Upon moving in, life soon began to shift in positive ways for both Betty and her young daughters, Lynnisha and Simone.
The family was finally settled in one spot. "That was the first time I felt like we were part of a neighborhood—part of a community," says Simone.
"And that was also the first time that we had our own room and our own space," adds Lynnisha. "We could concentrate, do our homework and have quiet time when we wanted."
That space and stability translated into academic—and now career—success for both of Betty's daughters. Lynnisha, who holds an associate's degree in accounting and who also completed a six-month computer program, is an IT support supervisor at North Memorial Hospital. Simone holds a bachelor's degree in social work and is working on her master's in the same field. She is a licensed social worker at Abbott Northwestern Hospital.
Having paid off her Habitat home in 2005, Betty—now an anesthesia support specialist at Abbott Northwestern Hospital—feels blessed for what that means for her family. "This house is something I can now pass down to my children or grandchildren," she says.
So the numbers really do tell the story: One Habitat home. Three generations positively affected. One happy and successful family.