Katie Moore has lived in her Habitat home since 1999. At 75, she still believes that buying a home with Twin Cities Habitat for Humanity was one of the best decisions she has ever made.
Katie's home has kept her family together all these years. It's where she raised one of her sons and three of her grandchildren. It's the place where everyone gathers to celebrate birthdays and holidays. However, until recently Katie did not think she would be able to stay in her home for much longer.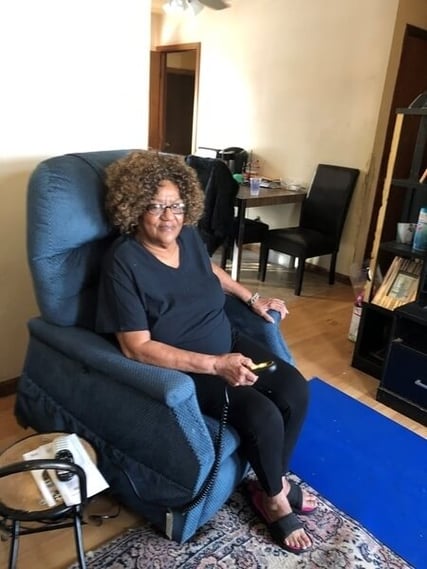 Katie Moore in her home
Eight months ago, Katie suffered a fall which landed her in the hospital for almost two weeks. While hospitalized, Katie was diagnosed with Chronic Obstructive Pulmonary Disease (COPD), a type of lung disease that causes difficulty breathing and constant wheezing.
After discussing her health condition with her doctor, Katie realized she would need to make some changes to her home in order to continue to live there. That's when her occupational therapist from Allina Health referred her to Age in Place (now known as Age Well at Home TM )the Habitat home modification program that helps older adults age safely in their home.
The Twin Cities Habitat Age in Place team has been helping older homeowners stay in their homes since 2017. However, until Katie, they had never worked with a Habitat homeowner before, making her the first person to buy with Habitat and participate in one of our home modification programs.
Twenty years after buying her home, Katie can still count on Twin Cities Habitat to keep her home safe and affordable. The Age in Place team added handrails to the entrance of her home, replaced one of her kitchen cabinets, and installed grab bars in different areas of her house, along with other modifications.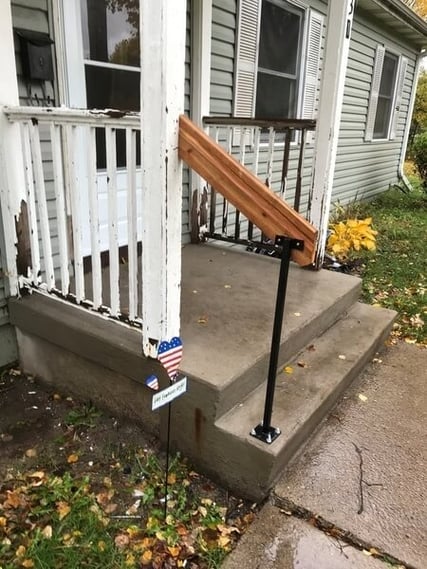 The handrails added to the home entrance
The Age in Place repairs made Katie feel safer and more comfortable in her home. She is glad to continue living in her home for years to come.
"I really appreciate being able to buy a Habitat home and raise my family here… that's really what the American dream is all about-- to feel safe and have the little things that you need."