We recently held a Stories of Home Contest where we asked Twin Cities Habitat homeowners to share a story answering the question: "What does your home mean to you?" Here's one of the winning stories in the homeowner's own voice. Story and photos shared with their permission.
Written by Melody Lawson, Habitat Homeowner since 2011
I am so excited to write the greatest memories I have in my life when I purchased my Habitat of Humanity home.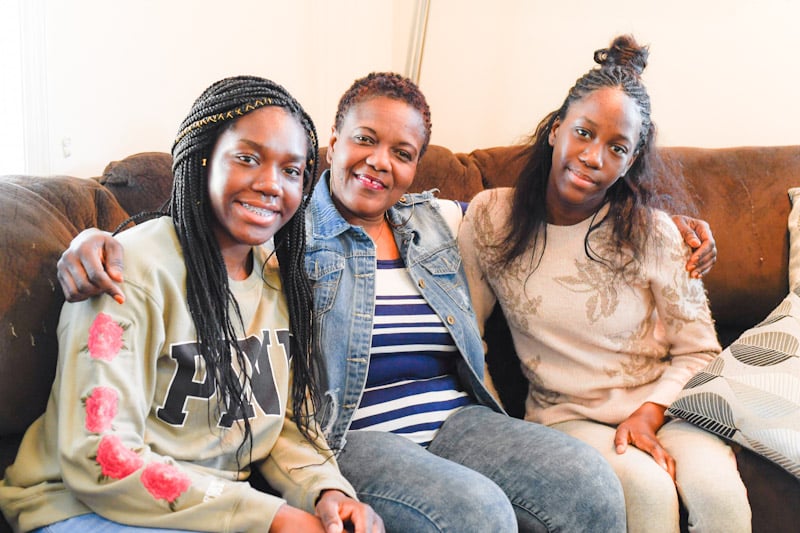 I am originally from Togo, West Africa. I immigrated with my two daughters to the United States in October of 2003. My cousin gave us a warm welcome in Minneapolis. I enrolled my children in Head Start. While they were in school in the morning, I would go to do a housekeeping job in a hair salon in St Paul, and I attended ELL (English language learner) classes in the evening. Day in and day out, with my teachers' support and my determination to succeed, I started to understand American English. I volunteered in my children's school in the morning and attended classes in the evenings.
Unfortunately, my cousin, without a notice, kicked us out in winter of 2005 while I was pregnant. My husband went back to Africa. Fortunately, Hennepin County gave me housing subsidies which enabled me to rent a one-bedroom apartment in South Minneapolis. This apartment was our shelter thankfully but, on the other hand, it was well infected with mice, rats, and cockroaches. At night, my newborn baby was surrounded by the cockroaches and he ended up having asthma. The nurse at HCMC gave us the notice to move out. I did not know where to go. Every day I cried in class and kept praying with the hope that my children and I would someday have a place to call home. I had hope and kept attending ELL classes. After a year, my teachers gave me a recommendation for Minneapolis Community and Technical College. My Instructor talked to me about Habitat of Humanity. She told me to work hard in class and get my degree and find a job, then apply to buy a Habitat for Humanity house.
I finally get hired at Head Start as a preschool assistant teacher while I was in Early Education classes at MCTC. I applied for the first time to buy a Habitat house, but my application was denied. I kept the denial in my bible and kept praying over it every day. The second year, I applied again with hope to get it for the second time. Unfortunately, I received a denial letter again, but I did not lose hope. I added the second letter to the first one, and kept praying over it day in and day out. I applied for it again for the third time and got it in 2010. It was a miracle. I got my dream home finally with a special signature.
My dream and hopeful Habitat for Humanity home became a famous home. My dream house was chosen to kick off the Ecovillage Hawthorne neighborhood as part of the annual Jimmy and Rosalynn Carter Work Project. The former United States President, Jimmy Carter, joined by his Vice President Walter Mondale, Senator Al Franken, former Minneapolis Mayor R.T Ryback, former St. Paul Mayor Chris Coleman, and other local politicians spent many hours to put up siding and did other construction work on my house on October 11, 2010.
When I arrived early that morning, I wasn't expecting to see a crowd of journalists on the stage waiting in front of my home construction site with their huge recording cameras, microphones, and other electronic tools I have never seen. There were nearly 200 people. At the end of his speech, Jimmy Carter gave me a Bible. I had goosebumps when I received it. I told him my anecdote of my Habitat dream house and how I kept putting my three denial applications in my bible and kept praying over them every day.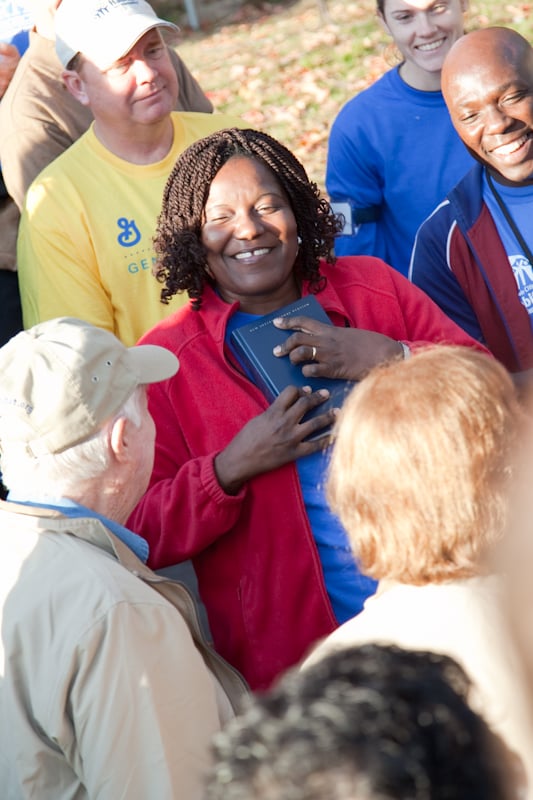 Melo (center) receiving her Bible from Jimmy Carter (front left).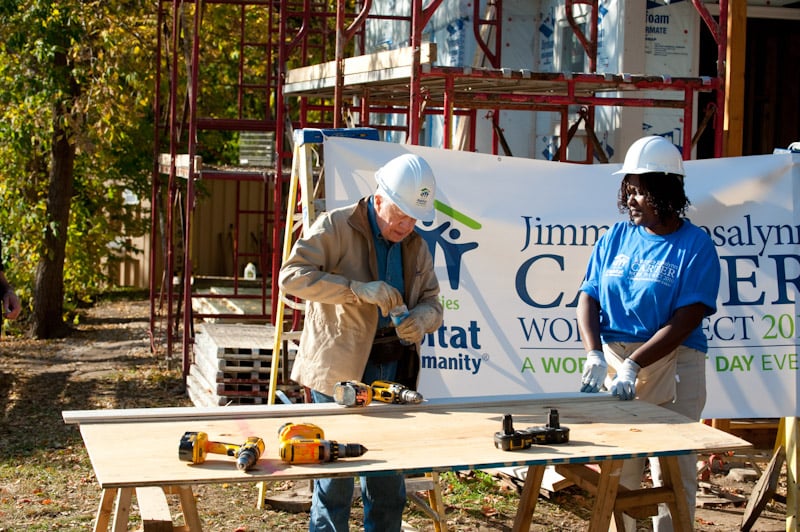 My dream and hope house became the most famous house in North Minneapolis. Click on the links below:
The event was in the news in the United States and all around the world. I received calls from my families, relatives, colleagues, and friends from my home country Togo and all around the world to congratulate me on my famous house.
We have been living in our house in North Minneapolis since July 11, 2011. We love the neighborhood. I do not have to drive far away for grocery shopping and other errands. There is a library, post office, and other convenient stores nearby. Also, I found a new rewarding career with awesome benefits in my new neighborhood. It is only eight minutes from my house. I am attending the University of St Thomas which is a 15-minute drive from my house as well. I have peace in mind and in my soul when I am in my dream hope home with my children. It gives me a great opportunity to pursue my education. From ELL student, I am proud of myself and give gratitude to my Almighty creator that I have an Associate Degree in Early Childhood Education in 2013, a BA degree in Urban Education in 2017, and I will graduate on May 25 with a Master Degree in Special Education with ABS (Academic Behavior Strategist) licensure.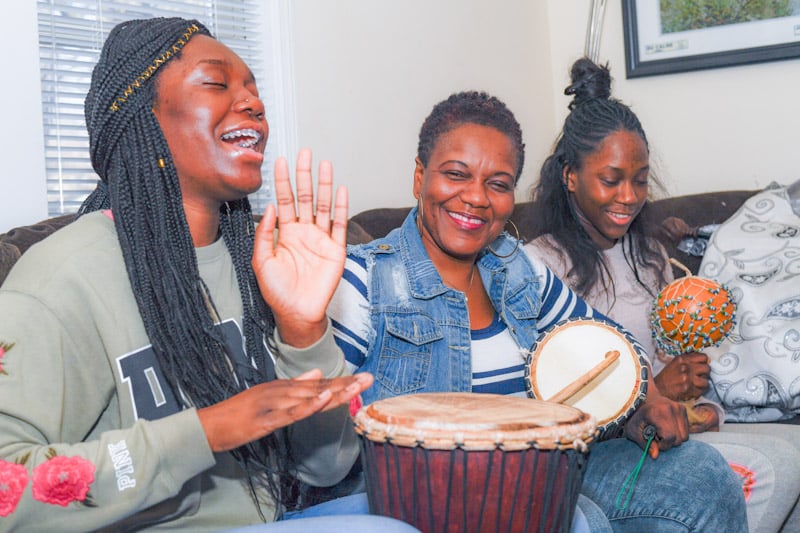 My children are progressing amazingly in their education. My older daughter is attending U of M (2nd year in International Communication), her sister is going to be graduated with High school diploma in May and plans to attend Nursing school at MCTC. Her two other siblings are also improving well and have all A + in their grade schools. (9th and 6th grade).
Truly, my Habitat of Humanity home is my dream home where my relatives come spend time, and my children and I are fulfilling our education goals. After I get my Master Degree in Special Education, my next step is to continue with a Doctorate and a Ph.D. degree, learning in my quiet and peaceful home because, I believe, there is no place to own and have a deep insight like a Habitat for Humanity home. I am so thankful for all the hard work the Habitat staff, and the volunteers did to contribute to my home. I will never let all the hard work they did go down the drain, inside, I will keep the ball rolling by giving them back to the next home buyers by sharing my story and volunteering in building their homes. I learned a lot of construction tips and home maintenance when I worked with Tony Beckstrom (the site supervisor), former President Jimmy Carter and his crew and volunteers on my dream home. My dream home is a historic home for my family now and the next generation.