We recently held a Stories of Home Contest where we asked Twin Cities Habitat homeowners to share a story answering the question: "What does your home mean to you?" Here's one of the winning stories in the homeowner's own voice. Story and photos shared with their permission.
Written by Beth B., A Brush with Kindness home repair participant in 2018.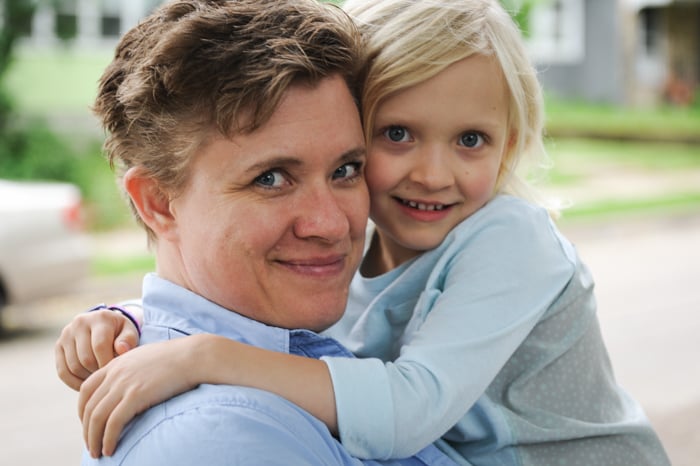 What does your home mean to you?
My home is a comforting place to land, to end a long journey at the end of each day.
My home is a place that holds still and has my pillow.
My home is the everyday meeting place of my busy family – where we all come together and speak a common language.
My home is my favorite place to have conversations both quiet and loud, experience everyday outbursts of emotion, have quiet or heated debates and raucous play dates – without disturbing the neighbors too much (I hope). The walls shield us from the world when we need a break as we raise our family the best way we know how.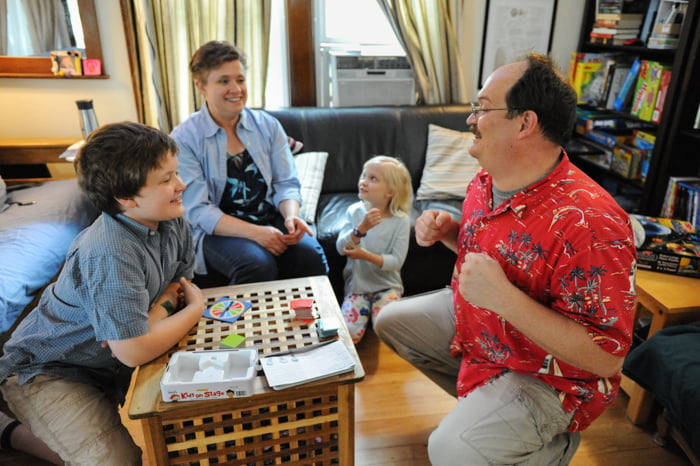 But my home is more than that – it is a house in a neighborhood with an insulating layer of good neighbors and people that know what is what and who is who. When they see something, they say something. Therefore I know my home will be a safe place when I am not home as well. My home is where I care for my babies when they are sick—even the big ones. Our indoor cats call this their home too. Whenever they slip out they always slink back, because this is their safe place too. I always look forward to coming home, because its my safe place, and safe for my family. I come home even when I know its messy. Because its a familiar mess, my mess, with familiar sounds and smells. My home is my own little world because Habitat helped us make it better, and now it is no longer a source of worry instead.
My family made a difficult decision to drop to one income and be more available/present for our children. This took the expected financial hit on our savings, and despair set in when at that same moment our house started to disintegrate before our eyes. Frustration was our response to having the skill set to fix most problems, but no time and money to do so. The first moment I had a glimmer of what was possible was when I saw A Brush with Kindness on my neighbor Audua's property. She was getting her house painted and her kitchen remodeled. I didn't know this outreach even existed. I looked into it immediately. Only a few months later we were having our first meeting with the construction manager Mike. The work we needed was extensive, and not all of it was within their scope—but they were willing to help anywhere they could. Especially if we as the homeowners could meet them halfway. During the evaluation process, we found out we had a significant lead problem and a strong desire to correct it, because of our two young children—and no plans to move. Panic!! was our next strong emotion after we discovered this dilemma. But Mike assured me that lead paint was nothing new and would help us in any way they could with that as well. Then hopeful relief set in, and we signed on the dotted line.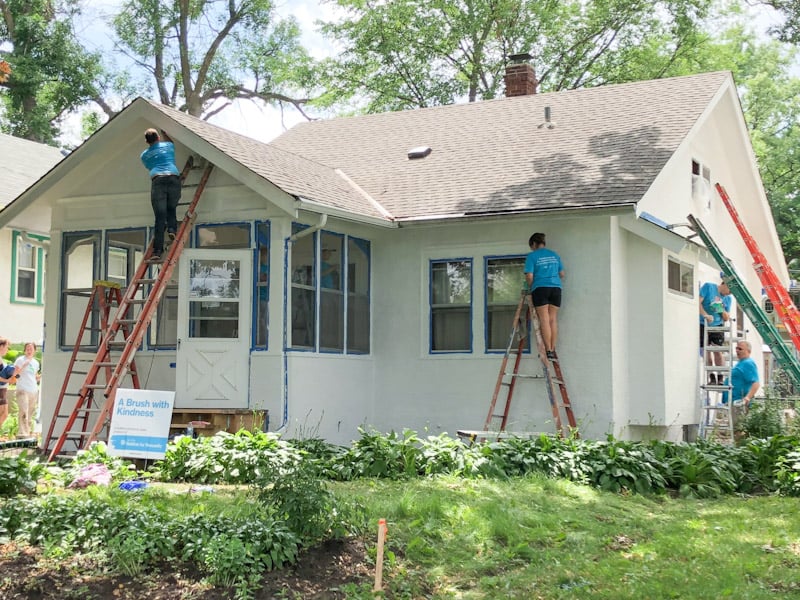 The good memories started to trickle in. Alison and Paul came to reattach huge chunks of our stucco. A group of retired guys came to do gutter work and Holy Moly! They built us a new garage side-access door in a day! The original one was apparently rotting away and wasn't going to be suitable for repainting. The kids and I celebrated earth day and planted many many pots of flowers and seeds. It was quite lovely to have a burst of color here and there among the chaos that was the staging area of our back yard for most of the summer. A good number of those flowers were a gift from the Jordan Week of Kindness master gardener for my work in helping coordinate the block party. I remember walking past forests of ladders surrounding our house. If the kids and I weren't "helping" the volunteers, we were trying to stay cool. My husband recalls it being a zillion degrees and he was most impressed the volunteers were still out there. "Oh! we'll take a break any time now!" So I offered our kitchen as a cold refuge. I saw the odd sight of people's faces outside the windows on my second floor. My daughter didn't have much stamina—but she excelled at passing out water and popsicles. Later in the summer Mr. Aaron came to tear up and remake our cement walkways. He did an amazing job answering my son's endless questions and stepping around my hovering observing kids—they made him up a thank you card with absolutely no parental prompting. What a fun last stage and a perfect finishing touch.
A Brush with Kindness really went above and beyond to make our house back into a home. A Brush with Kindness took a terrible burden off our shoulders. And If I were someone considering taking on Habitat for some assistance, it will be the best decision you ever make. Because the more you involve yourself in the process the more fulfilling your experience will be, the clearer your understanding will be. You could even come up knowing a new thing or two about how to take care of your new and improved home!