Wendy Mitchell always dreamed of owning a home of her own. That dream became a reality, this past September when she closed on her home in North Minneapolis.
Although she was born in Chicago, Wendy's family moved to Minneapolis when she was just seven years old. Having grown up in the area, it only made sense for it to be the place where she would own her first home.
In June 2013, Wendy moved back to Minneapolis after living in Oakland, California for a few years. She initially stayed with family until she could find a place of her own. When she started looking for places to live, she was surprised by how high rent was and struggled to find affordable housing options.
"Renting here was expensive. Especially renting a two-bedroom apartment! I wanted to stop paying somebody else's mortgage and own a home of my own, so I worked on my credit to make that happen."
Wendy started to pay off some old bills and worked to get her credit score up. Then one day, as she was driving to work, she saw a billboard with information about becoming a first-time homebuyer with Habitat. That's when she decided to contact Twin Cities Habitat and apply for our homeownership program.
After being accepted into the program, Wendy worked with one of our homeownership advisors to become mortgage ready. She continued to work on her credit score, attended our homeownership classes, and completed all of her sweat-equity hours.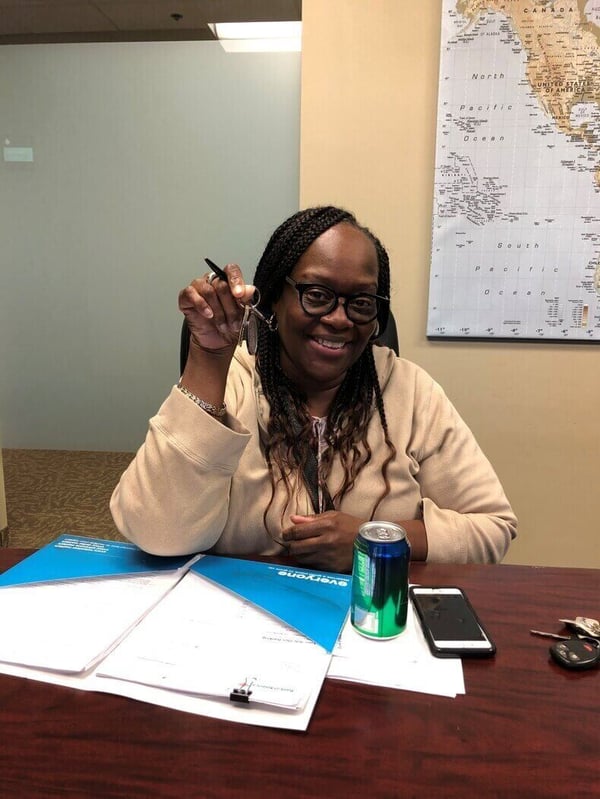 Wendy at her home closing.
Once she got the keys to her home, Wendy and her 18-year-old daughter moved right in! Later on, Wendy's 90-year-old grandmother joined them.
Her grandmother had previously owned several homes, but until now no one else in Wendy's family had owned a home. This made homeownership even more special to Wendy and the rest of her family.
Before buying with Habitat, Wendy and her daughter lived in a small two-bedroom apartment. Now, Wendy, her daughter, and grandmother have more than enough space in their four-bedroom house.
"I love my home. It's great to know that it's something I own and something that I can eventually pass down to my daughter," Wendy added.
Wendy is just one of the 114 people to buy with Habitat this year. You too could become a Habitat homebuyer. Find out if you qualify for Habitat's homeownership program today!