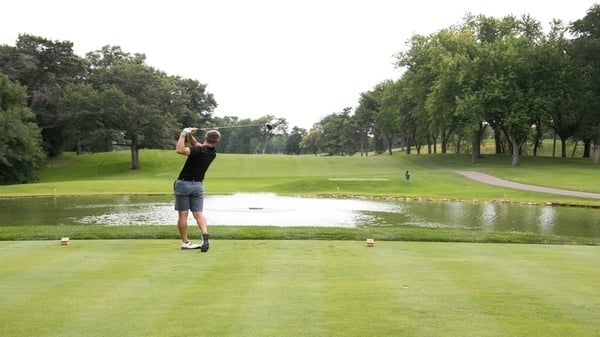 Many Habitat homeowners are also front line workers in healthcare, education, and transportation during the COVID-19 pandemic. That's why this year, the Raise the Roof Golf Tournament will support the At Home Fund, a brand-new fund for Minnesota homeowners struggling during COVID-19, which protects homeownership and ensures homeownership opportunities for generations to come.
"Your neighbors need your help right now," explains Chris Coleman, president and CEO of Twin Cities Habitat. "Home has never been more important. Please step up to support our At Home Fund, which will protect existing homeowners and will help multiply Habitat homeownership opportunities for families in our community."
August 3rd marks the 25th anniversary of Raise the Roof, and we're celebrating the milestone on the newly renovated course at the Minneapolis Golf Club. In fact, Raise the Roof will be the first tournament held since the course's renovations were completed earlier this summer.
"I look forward to this event every year," said Mike Nordstrom, Minneapolis Golf Club member and co-chair of the event. "I get to pair up some of my passions: Twin Cities Habitat for Humanity and golf. This year, I get to play with my oldest son. What a day it will be!"
How Raise the Roof is Adapting for 2020
Our team is working with the Minneapolis Golf Club to ensure the safety of all golfers, volunteers and staff by observing all COVID-19 precautions including staggered tee times, mobile scoring, and flags left in cups while putting. Golf carts usage will be limited and clubhouse bathrooms will be open, though locker rooms will remain closed during the event. Of course, a 6-foot social distancing protocol will be encouraged at all times.
"Each year, this is a fabulous way for participants to meet and spend time with homeowners and they can see first hand the impact of their support," said co-chair Nick Walton. "And now with the impact of COVID-19, out of respect for those working on the front line, it's critical that we observe all social distancing guidelines for everyone at the event."
Individual foursomes are available for this year's tournament. Each foursome includes a full round of golf. Safety and support for those in our community will be top priorities at this year's event, and we appreciate your understanding and support as we navigate a brand-new way of fundraising.
With Raise the Roof 2020, we hope you're looking forward to engaging conversation, fun contests, wonderful auction items, and – of course – great golf! Learn more about attending, sponsoring, or donating at https://www.tchabitat.org/raisetheroof2020.