Realtors can play a critical part in reducing the racial disparities in homeownership rates in the Twin Cities and across America. Many of them are eager to do it, due in part to the role real estate agents played in creating disparities in the first place over the past century - from racial deed covenants to opposing the Fair Housing Act of 1968.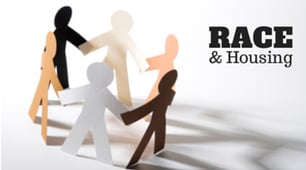 The realization that more work must
be done has spread through the industry in recent years and was punctuated by the National Association of Realtors® (NAR) issuing a
formal apology for past practices in November 2020
.
Around the same time, NAR amended its code of ethics, which Realtors are required to take an oath to uphold, with the goal of changing the mindset of people going into the profession. It also put out a four-point road map for local Realtor associations to follow in order to improve on diversity, equity, and inclusion.
"That was a pretty big deal," says Carrie Chang, Chief Executive Officer for the Minneapolis Association of Realtors (MAR). Chang, who has a background in philanthropy, made sure her priorities around equity and inclusion aligned with the MAR Board of Directors before she took the job as CEO in 2019. She says the racial and social reckoning that has taken place over the past two years is driving change in the profession.
"I think we have a better opening than we've ever had in the industry, at least not since fair housing was passed, to make some real change, not just in policies but in the mindset of the profession and of the communities that we serve."
Reckoning and Educating Realtors
Educating Realtors and prospective Realtors on the history of racism in real estate is one area where change has happened.
"Anyone joining MAR has to go through a new member orientation and we explicitly now talk about the history of racism in real estate, as well as the values of diversity, equity, inclusion," says Carrie. In addition, a training module called The History of Diversity in Real Estate is now required for licensed Realtors in Minnesota.
Carrie also recommends Realtors take the class Racism in Real Estate offered by Rethos. It is open to the public and goes deeper into the history of race and housing in America.
"It's really important that if we want change to happen, we can't just gloss over the past," says Carrie. "We first have to reckon with the fact that we were part of it. We have responsibility, we created it, so we best know how to dismantle it."
She also recommends to Realtors (and anyone interested in the topic) the book The Color of Law, which goes into great detail about housing segregation and its ramifications.
Diversifying the Profession
Realtors are still disproportionately white in the Twin Cities. There is awareness that this needs to change in order to serve more homebuyers of color. This knowledge inspired the creation of the Pathway to Achievement Program, which lowers the financial barriers to entry into the profession and offers new Realtors support through strong partnerships with brokers.
"We wanted to make sure that anyone coming in this program had a broker who understood the nuances of supporting somebody coming from the BIPOC community and was inclusive in their mindset and their business approach." says Carrie. "So, we interviewed not only the candidate themselves but also their broker."
The first cohort in the Pathway to Achievement Program has just 6 Realtors in it, but new applications will be accepted in 2022.
Brokers are also trying to do more to diversify the real estate industry. For instance, Coldwell Banker has an Inclusive Ownership program. Qualified candidates don't have to pay the initial franchise fee and are part of a year-long mentorship program.
Pushing Policy Changes
Henry Rucker is a broker with Banneker Realty and serves on MAR's Diversity Committee. He identified four policy changes he believes could help more BIPOC households become homeowners.
Ban love letters to sellers
Oregon was the first state in the country to ban these, but while that is already being challenged in court, the movement is gaining momentum.
Stop requiring funding sources for down payments to be disclosed
Currently, buyers need to alert sellers if they are using a down payment assistance program like the ones offered by Minnesota Housing, Twin Cities Habitat for Humanity, and other entities. However, buyers don't have to disclose if a financial gift from a parent is what helped them get to 20% down.
Get rid of names on purchase agreements
Since it's simply an electronic document, names could easily be left off of purchase agreements until the final signing.
Require first-time homebuyer classes
BIPOC buyers are disproportionately first-time homebuyers. Henry, like a lot of people in real estate, feels that the 30-year commitment that comes with buying a home is significant enough to require more pre-purchase education so families are prepared to succeed long term.
A governor's task force on housing made several recommendations (including some of the ones listed above) in 2018. However, enacting several of the proposals will require more funding to be approved by lawmakers.
Henry also points out systemic wealth gaps (created in part by historical access to homeownership) still creates challenges for many BIPOC buyers in today's hot market. White buyers who have a wealthier support network can more easily access money for down payments, forgo inspections, and offer above asking price.
Pat Paulson, a Realtor on MAR's policy task force focused on the racial homeownership gap, adds that a big need to increase buying opportunities is for more homes to be built at a lower price point. The dramatic rise in Twin Cities home prices (and a similar market outlook for 2022) means even fewer BIPOC families trying to buy their first home, who never benefited from the multi-generational wealth-building that homeownership creates, will continue to struggle to enter the market until that happens.