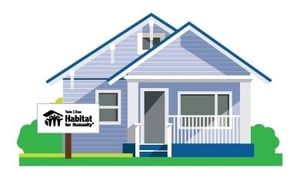 Time to look into the real estate crystal ball (and look at some data) to make predictions about what the trends will be in the 2022 Twin Cities housing market.
This information was pulled together with the help of Todd Walker, President of the Minneapolis Area REALTORS® (MAR), and David Arbit, Director of Research and Economics at MAR.
Here are the headlines they anticipate about Twin Cities real estate in the coming year.
Not Enough Homes for Sale Under $350k
"There is a ton of demand in the market, and it is being met with the brick wall of supply shortage, and every agent is talking about it," says David Arbit. "The supply-demand imbalance is still driving every one of the metrics: market times lower, prices higher, the ratio of sold to list price is higher."
On the top end of the market (homes above $1 million) there have been two straight years where the number of sales have increased by 25%. "Over the last 12 months, it's been an absolutely bonkers market," says David. "The issue is for the 50% of Twin Cities families earning less than the median income, and that's half of us, do we have the product to meet the need? And the answer is no. Then that begs the second question, are we getting there? And that answer is I'm not sure."
There is Desirability Everywhere
"I don't think there's any area of the metro that doesn't have hotspots," says Todd Walker. "You know, 10 years ago I'd have given you a different answer. But a lot of that's driven by the lack of inventory. I don't know of a community that isn't experiencing some sellers with quick turnover. There's desirability in every community in the metro, in my opinion. Buyers seem to be more flexible with locations in order to avail themselves of opportunities when properties come on the market. So, for example, the inner ring suburbs, some of which a decade ago may have been a little bit slower in a different market, that is not the case today. It's the desire for a new residence overriding being in a particular neighborhood or a community. People are more flexible than they used to be."
Here's some background data on the lack of inventory in the Twin Cities. A balanced market is said to have five months of listings available, or 25,000 listings. The Twin Cities average about 5,000 home sales a month. Currently, we typically have about 7,000 homes listed at any given time.
Looking for data on specific neighborhoods or price ranges? The sortable statistic tables on MAR's website is a good place to start
Watch the Macroeconomic Trends
Two unknowns will greatly influence the Twin Cities housing market in 2022 - interest rates and inflation.
"I really believe that the key is watching interest rates," says Todd. "If interest rates continue to stay in the threes this year like they're predicted, then I think we'll have a good year because it means that properties are still affordable for a lot of people."
The flip side of lower prices is the risk of inflation. "Purchasing power does erode, and so does your down payment, with inflation," says David.
Other macroeconomic trends to watch, because they directly impact how many homes get built and how much a home costs, are the five Ls: lots, labor, lending, lumber, and laws. Most of the land in the Twin Cities is zoned for single-family homes (according to the Star Tribune) and almost two-thirds of it requires a minimum lot size of at least a quarter acre per home (some places it's 5 acres). This creates a scarcity of land for new homes.
"We've got a lot of good regulations," says David. "We've got some regulations where some relief could deliver better affordability and more product to more people."
Housing First Minnesota is a trade organization that represents home builders. Part of its advocacy work is aimed at reducing the cost of building homes in the state.
One issue Housing First Minnesota wants addressed is building permit fees. Since 2014, local governments have self-reported more than $200 million in building permit surplus revenue. Minnesota law says the permit fee should only cover the costs of inspection services, and nothing more. Thus, no surplus should exist. An alternative idea likely to be discussed by the Minnesota legislature in 2022 would be to base permit fees on square footage and not leave it up to local municipalities to determine.
More Focus on Reducing Racial Disparities
The Twin Cities suffers from some of the worst racial disparities in homeownership rates in the nation (3 in 4 White Twin Cities families own their homes compared to 1 in 4 Foundational Black American families). This is a major focus of the work of Twin Cities Habitat, and you can learn much more about it at tchabitat.org/race.
"It's unacceptable," says David. "As a state, as a metro, as a city, as an industry, we've got a lot of work to do."
"I think there's more focused attention, oversight, and resolve to correct years and decades of improper processes and procedures," says Todd. "The National Association of Realtors issued an apology for practices that were discovered across the country…The Minneapolis Association is actively engaged in taking action, putting people and policies in place to improve the situation and create more opportunities for more people for homeownership. I don't mean that to sound political. It's part of our strategic plan, our long-range plan."
"We provide our members with a number of educational opportunities to help them learn about the homeownership gap and what steps to take to help close it," says Carrie Chang, CEO of MAR. "These offerings include our 'Racism in Real Estate' class and our work to designate 'The History of Diversity in Homeownership' as a required course for all Realtors during this program year. It is imperative that our members understand the disparities that exist and how they can make sure more people of color become homebuyers."
COVID Means Change
How the delta and omicron wave (and potential new variants) of COVID plays out will impact the housing market in unknown ways. Will it further disrupt supply chains? Will it increase the trend of families investing even greater percentages of their money in their homes since those spaces double as home offices or distance learning classrooms? It's too early to tell, but yet another reminder to do what you can to limit the spread of COVID.
From COVID, to interest rates, to inflation, there remain plenty of unknowns in the Twin Cities real estate market for 2022. The big takeaway is that we will continue to have a shortage of homes - especially homes that are affordable to families making less than $100,000 a year.