Guest blog by Avery Pelletier,
Construction Volunteer Facilitator and AmeriCorps Service Member
When I first moved to the Twin Cities for school, I wanted to learn more about my new home, and an AmeriCorps position at Twin Cities Habitat for Humanity seemed like a great way to do that. I knew little about the AmeriCorps program before my service term, but I had fond memories of going to the local ReStore with my mother back in Missouri. After sending in a resume, filling out an application at AmeriCorps.gov, and interviewing for the position, I got the news that I was now a Construction Volunteer Facilitator.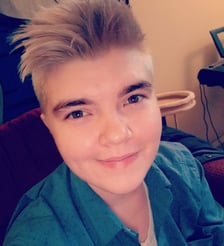 The orientation I underwent was valuable and helpful. Before accepting this position, my only construction experience had been building sets for my high school theatre. Stepping onto a construction site complete with scaffolding, cranes, and power lines for the first time felt like some transgressive act. However, after Tool & Safety training, I was prepared for my first days of work; I had the basics I would be able to build on for the rest of the term. I also got a lot more out of our orientation than just skill training. Our AmeriCorps cohort was educated on the history of Twin Cities Habitat, as well as the history of housing discrimination in Minnesota. This period of learning contextualized the work we were about to do and prepared us to be better advocates for the organization's goals when we spoke with volunteers.

I also appreciate the extent to which Habitat staff went out of their way to make good matches between Site Supervisors and AmeriCorps members. My Site Supervisor and I get along and work really well together, which is made all the more important when we're working without volunteers due to COVID-19. That being said, all of the Site Supervisors can (and do) work with individuals who have very different personalities and leadership styles after years of working with many volunteers. While I haven't been to as many different sites and worked with as many different people as I might have if I completed my service term in a different year, I have had the opportunity to work with different Site Supervisors, and I've been able to learn from each experience.

While my Site Supervisor, Bryn, was on paternity leave, I was able to work on the Willow Reserve site, a unique project years in the making. When the project is complete, 11 Habitat houses will line the same side of Maryland Ave, all connected by the same alley. While I was there, I was able to work with Site Supervisors Rhonda and Tim, and learn about the later stages of framing. It felt amazing to get outside and do some work with my hands after spending quite some time indoors.

After working on Willow Reserve, I went to Coon Rapids to work on a rehab project - a pre-existing house we were altering rather than building from scratch - with Bryn once he had returned. It was a bit jarring to go from working on framing to doing interior finishes, but there were plenty of opportunities to learn. After an initial phase of demolition, I was able to practice sheetrocking, mudding, taping, sanding, painting, trimming, and installing floors - all skills that will be incredibly handy when I move into my own new home in the next couple of months.

What's been most notable in me since I started the program has been a change in confidence since the start of the term. I'm an anxious person, and I always tend to doubt myself whenever I take up a new position. While I've always had people tell me I've done a good job in the past, this position has given me concrete examples of what I can do time and time again. If I ever feel down on myself for not acquiring a skill as fast as I'd like, I can always remind myself of how I learned to install windows, or how figured out I have a knack for trim installation.
---
You or someone you know could be the perfect fit for Twin Cities Habitat's AmeriCorps program! Learn more.