Have you ever wanted to know more about how our AmeriCorps office positions can help you meet your career goals? Twin Cities Habitat AmeriCorps alum Aidan and David share how their experiences prepared them for their next journey.
David's Experience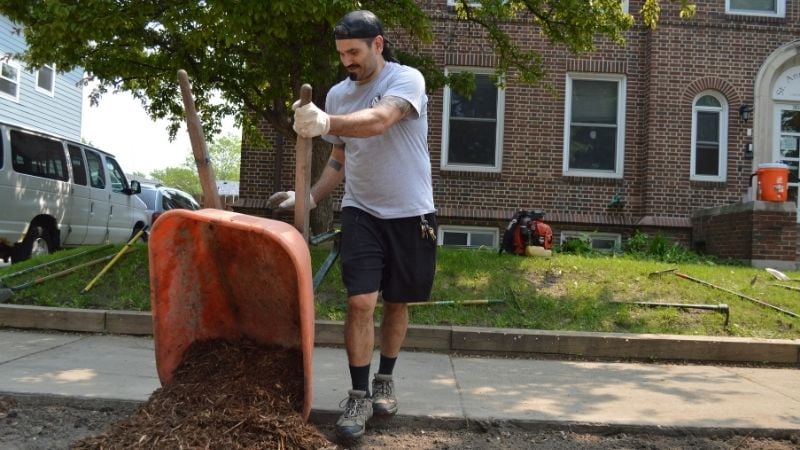 David took the role of Outreach Associate after he finished a year of AmeriCorps VISTA service. After applying for many outreach and community organizing positions, AmeriCorps seemed like a great fit. The Outreach Associate position was exactly the type of work that he wanted to be doing, developing partnership-building skills and learning more about what this career entails.

David liked the role because he was able to connect people to resources they didn't know about, like homeownership. Helping to build an outreach program from the ground up was exciting, and he enjoyed spending time out in the community talking with people and presenting ideas. He also was able to create some partnerships with other organizations, partnerships that are still being used today. Being a part of something new that was creating an impact on Habitat was fulfilling.

David developed many skills, new and old, during his service term. He created strategy and processes for a new program, and refined his public speaking and communications skills. He also learned to use new technology, and developed project management skills, just to name a few.
It's such a thrilling feeling when you know your work made an impact. David said "I've been told that the processes laid the groundwork for systems to track partnerships. If and when Habitat wants to, they can pick it up and create partnerships."

David said it was great to work for an organization that cares about its employees and AmeriCorps members. The program also gave him confidence that he can work as a professional in the nonprofit world with valuable skills to offer the community. The teambuilding and service activities were a great perk to the program and were valuable ways to stay engaged.

These days, David works as the Outreach Coordinator for Prepare + Prosper, a nonprofit that provides free tax and financial services, financial coaching, and access to financial products. They also advocated for financial and economic justice. David's experiences with Habitat translated directly to what Prepare + Prosper was looking for. In his current position, he grows partnerships with organization gate holders to provide them with tools they may not have.
"I'm very grateful for my time and opportunity. The work I got to do with Habitat and all the amazing people I got to work with and the way Habitat treated me. Even though I wasn't a staff member, I was an AmeriCorps member, I didn't feel like an intern. I felt like I was part of a team."


Aidan's Experience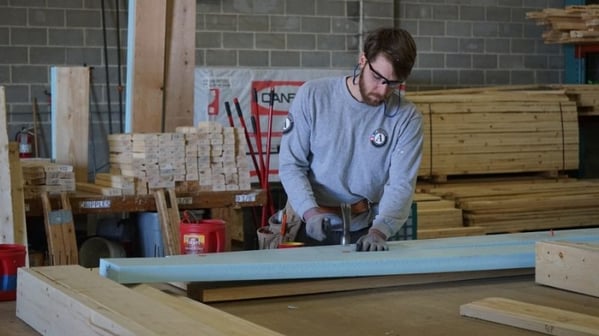 Aidan stayed with Twin Cities Habitat for not one, but two years! He had also participated with the organization in other ways. In high school, he volunteered for Twin Cities Habitat, and his family stayed involved. After finishing college in St. Paul, where he studied affordable housing policy, Aidan wanted to stay in the area. This led to him joining AmeriCorps in 2017 as a Construction Volunteer Facilitator. He then stayed on for a second year in a Homeowner Support role.

One of the things Aidan enjoyed was the cohort aspect of the role, where there were 12-15 others he could connect and share experiences with. Initially, Aidan hadn't been looking to do a second year with AmeriCorps on the construction end. However, he thought that getting experience in the Homeowner Support role would help open doors into other opportunities, and everything else fell into place.

Once he started in the Homeowner Support role, Aidan found many contrasts to the Construction Volunteer Facilitator position. He had the opportunity to interact a lot more with homeowners every day. There was also more staff in his workplace, and many people he could ask for assistance that worked in various departments. Aidan developed a lot of different skills during his time as an AmeriCorps. He learned management and organizational skills, relationship building, empathy, and communication skills. He has excelled at problem-solving while helping homeowners have access to available resources.

Aidan was able to contribute to the team he was working on by taking on more work when another member of the team was new. He helped his team look into ways Habitat could expand its offerings and be a more socially responsible partner in the community.

When asked about the AmeriCorps program as a whole, Aidan said, "I'm inclined to think that more people should do a year of this, or participate in nonprofits. Living on the AmeriCorps stipend really gives you a new perspective as well. It makes you more empathetic toward people living with low wages."

These days, Aidan works as a home remodeler in Kentucky. The hands-on and people management skills are two important things he said helped him get to where he is. He'd like to continue working in housing in some capacity in the future.
"It's a really special place. Once I left I became a lot more aware of how Twin Cities Habitat is one of the leading affiliates. They're doing the most good that they can, and that's led to them expanding in all directions. It's pretty unique to be with an organization that's as big as it is, that's on the leading edge and trying to push the boundaries of 'what more can I do.'"
---
You or someone you know could be the perfect fit for Twin Cities Habitat's AmeriCorps program! Learn more.