Every spring, AmeriCorps cohorts across the country spend a week performing service projects away from their host sites. Whether by taking a trip hundreds or thousands of miles away, or by serving their communities locally, AmeriCorps members gain a new perspective on the world around them.
Due to the pandemic, this year's Corps Week meant members needed to serve locally. From March 29 to April 2, AmeriCorps with Twin Cities Habitat were provided numerous opportunities to serve their local community.
Covid-19 has had rippling effects on the Twin Cities Habitat AmeriCorps program this year. One of them being the cancellation of service experiences that would happen throughout the term. The goal for Corps Week was to have members learn more about the community they live/serve in, while also giving back. With the added bonus of getting to know their fellow AmeriCorps members.

- Carly Rhodes, National Service Program Manager
From working in kitchens to public parks to the ReStore Home Improvement Outlets, members put their skills to use in a variety of ways.
At Feed My Starving Children in Eagan, small groups stocked and completed various tasks at the nonprofit's kitchen. Several members also delivered garden beds from Twin Cities Habitat to homeowners across the metro area.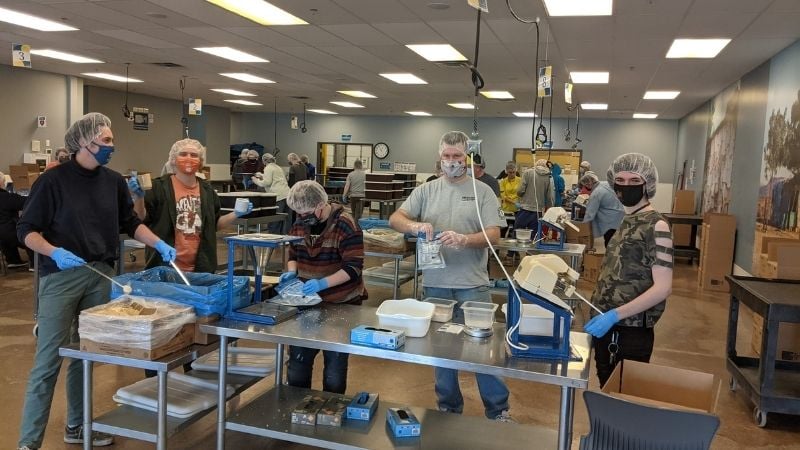 AmeriCorps members working at Feed My Starving Children.
At the Muriel Sahlin Arboretum at Roseville Central Park, members cleared and prepped garden beds. This kept things simple for incoming Master Gardeners.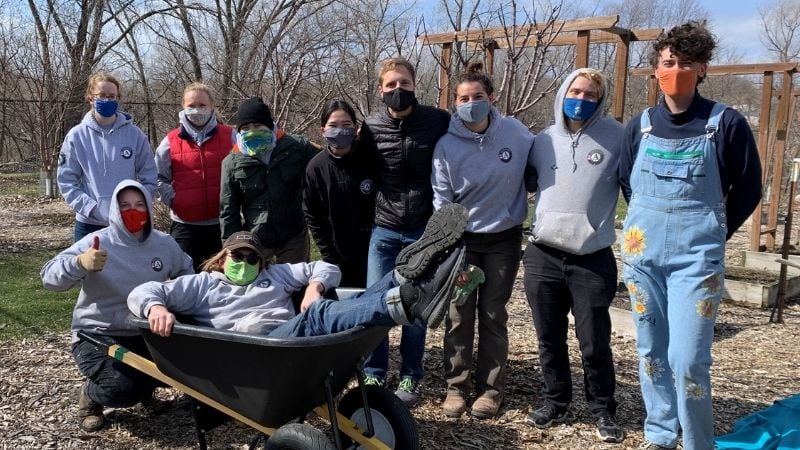 AmeriCorps members at the Roseville Arboretum.
There were many options for service. Construction Volunteer Facilitator Mickey Foley recounts his thoughts on the week:
"It was great finally getting to meet all the AmeriCorps in person. I had a chance to work with and talk to some new folks. We were able to work outdoors, which I really enjoyed, although the weather wasn't always cooperative. Our shifts cleaning up parks didn't line up with the warm days that week. But the brisk breeze kept us moving while pruning the raingardens at East River Flats Park and removing buckthorn at Crosby Farm Regional Park. Open Arms was another highlight for me. We prepared food for those in need in their large kitchen. The joy of the staff and other volunteers lifted my spirits. It was heartening to see an altruistic, vibrant organization operating in an impoverished neighborhood."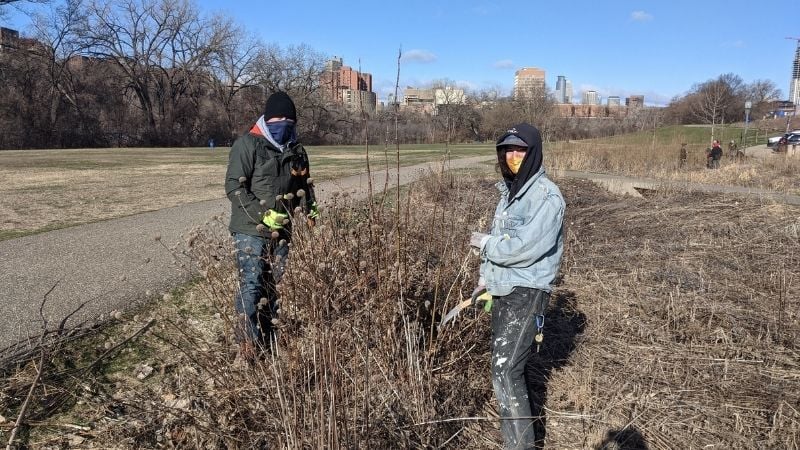 (Left to Right) Chris and Luce at East River Flats Park.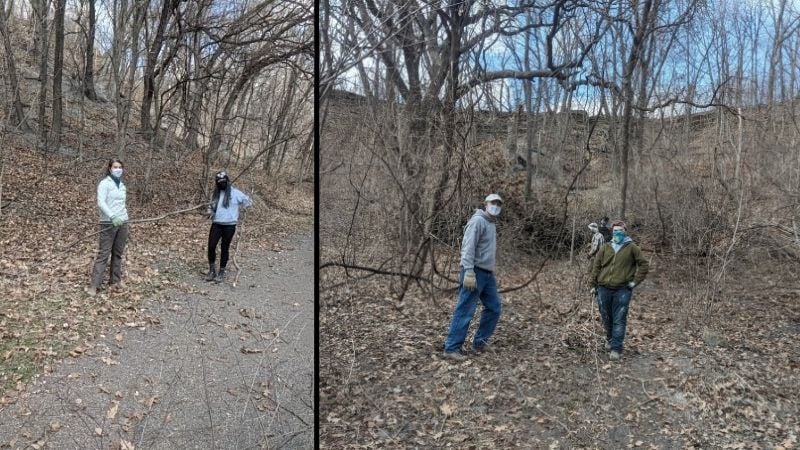 (Left to Right) Maddie, Sarah, Tony, and Avery at Crosby Farm Regional Park.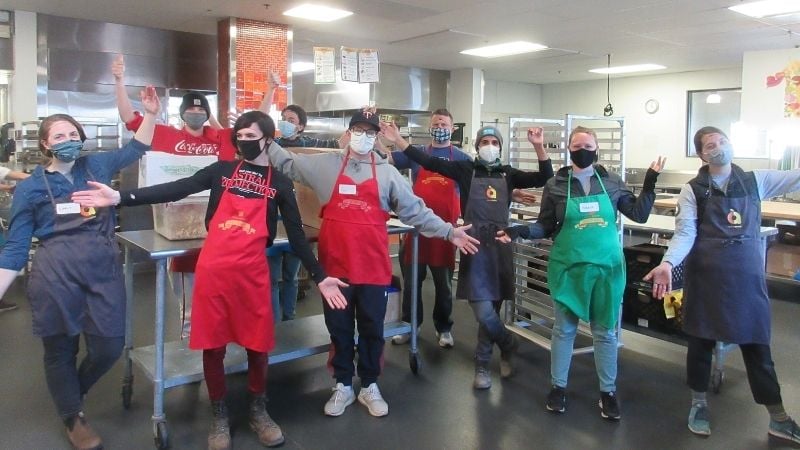 AmeriCorps members at Open Arms.
Finally, at the Twin Cities Habitat Warehouse, members built boxes and shelves that will be sold at our ReStore locations in New Brighton and Minneapolis. This was a great option for members who wanted to keep building during their week of service.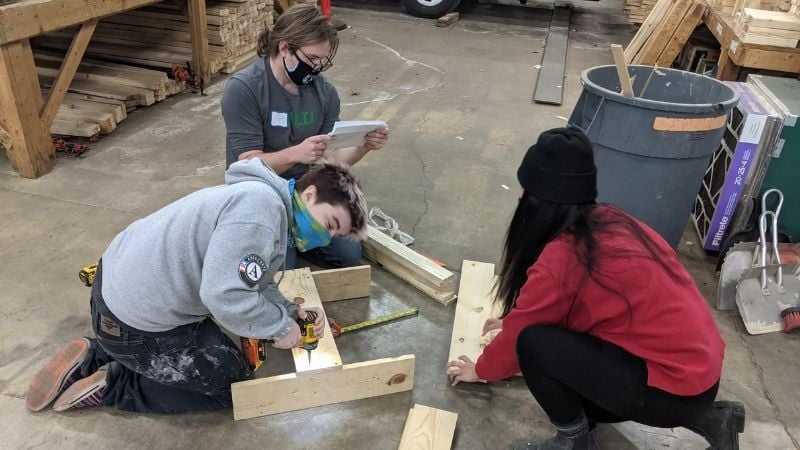 (Left to Right) Avery, Griffin, and Sarah building boxes at the Warehouse.
At the end of the week, the cohort had the chance to spend the afternoon at Como Zoo & Conservatory in St. Paul. Spending time together watching the animals and checking out the various plants was a relaxing way to wrap up their time.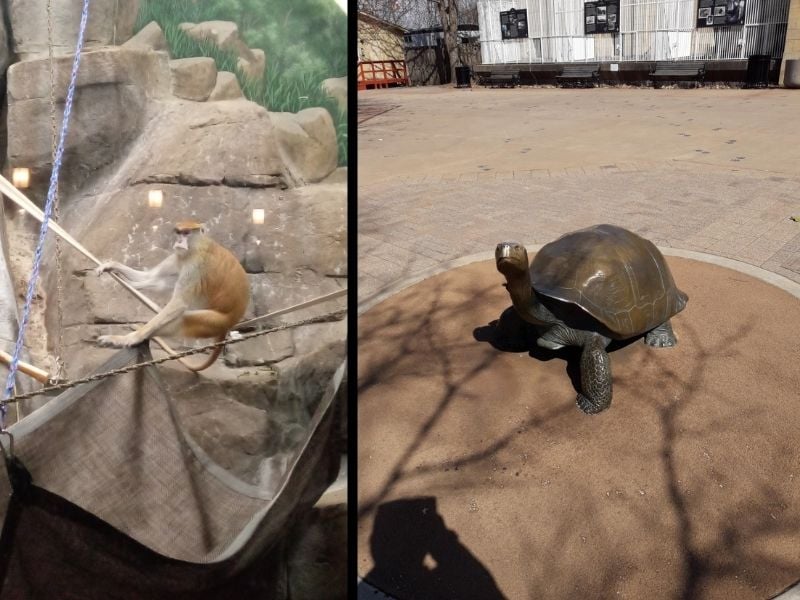 A Patas Monkey and a bronze statue of a tortoise.
The annual Corps Week serves not only organizations around the Twin Cities, but also the AmeriCorps members who participate. They learn about local efforts to make our communities more beautiful, hospitable, and compassionate. They also learn new skills, including how to work with new supervisors, even for a brief time.
---
You or someone you know could be the perfect fit for Twin Cities Habitat's AmeriCorps program! Learn more.