By James Klingensmith
Global Village Team Member
On the final work day of the trip, Team Buenos Aires put the finishing touches on the interior paint of their home. With a few key personnel additions from Team Buenos Aires, the Portrero Grande Troupe had an outstanding conclusion as well, as they completed the installation of all the cement paneled walls, leveled the floor, positioned the septic tank, and began backfilling the drainage trench!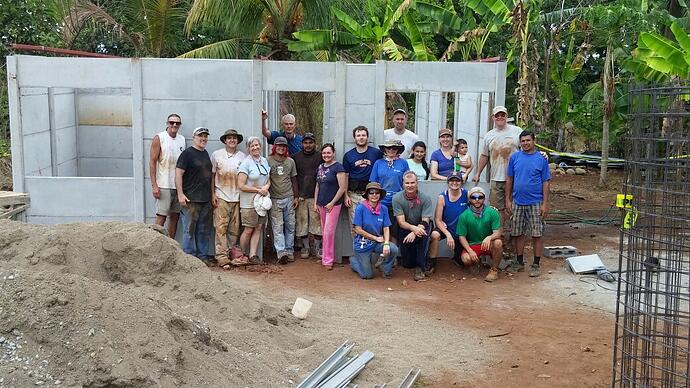 The energy and enthusiasm at the work sites is clearly contagious - both teams' bus drivers have been in the trenches with us every single day, both metaphorically and literally. The families we are building the homes for can't help but get involved as well - keeping us hydrated with fresh coconut water and helping us paint.
Due to our 'extreme efficiency', both teams finished their build assignments in record time and were able to take an afternoon trip to a truly breathtaking waterfall. Although we are told it's the dry season here, the rain seemed to have missed that email. As we made our way back to the busses, it began to downpour and the rocks along the river became quite treacherous. Undaunted and exhibiting the same chemistry and teamwork seen at the work sites, the group deftly maneuvered the terrain helping one another each step along the way.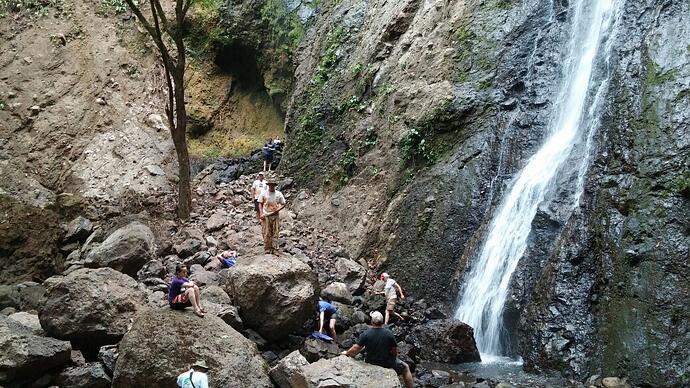 After our delicious fifth and final dinner at Cuchara Dona Ana, the group received a wonderful surprise gift from local field guide Felipe, aka Pipé. The crowd was transported as Pipé played his guitar and sang two Costa Rican tunes, a Bob Marley cover, and a rousing crowd-sourced rendition of Hit the Road Jack (videos available upon request, no copyright violation intended ;) )
When people think about Habitat, they often focus on how fortunate the families who receive the homes are, but it seems that not enough attention is paid to how grateful the volunteers should be for this experience - it is such a privilege to have the resources, time, and health to commit to this process.
Other bloggers have touched on the fact that we as volunteers get a lot out of the build. As a 'vaguely proficient' Spanish speaker, I was able to develop a close relationship with the Portrero Grande construction foreman Jorge and his local team by working alongside them and acting as their unofficial translator. It was fascinating to see, however, that the cultural exchange and closeness was not limited by a language barrier - everyone on the site became infatuated with two-year old Jaden as he popped balloons, smiled during his wheelbarrow rides, and danced to Bruno Mars. Hard work, love, and dedication are universal languages and although we can't stay here forever, we can take a little bit of Costa Rica back stateside with us in the form of new friendships and lasting memories. I think I speak on behalf everyone involved, that we are humbled to have participated in this great adventure.
This is my first Habitat build and although there has been little time for reflection, I can already tell there is no experience quite like it and words can hardly do it justice.
Pura vida folks, pura vida.