We had a fantastic Multiplying the Impact Virtual Celebration! A huge thank you the 150+ supporters who joined us for our program this week. Although our campaign has reached the end, there is still so much work that needs to be done.
Back in 2016, we had a goal of raising $55 million in five years to double the number of families who buy homes with Twin Cities Habitat each year. You helped us accomplish this ambitious goal in just FOUR years! Your generosity, passion, and resilience will impact families for generations.
If you weren't able to tune in to the program or want to feel inspired again, you can watch the program here. Please share it with your friends, because YOU made this possible.
Strength in Numbers
You proved that there is definitely strength in numbers. You challenged others to donate, host fundraising parties, lead volunteer build days, advocate with friends, and attend home celebrations and events. Those actions and your generous spirit helped us reach this monumental goal.
We are thrilled to share just a few examples of how big your impact was for families who partnered with Twin Cities Habitat:
347 families bought homes with Habitat. That is over 800 children, or 16 school buses!
219 A Brush with Kindness home repair projects completed to preserve homeownership.
1,748 families partnered with Habitat during the entirety of the campaign.
You can view more of your impact in the Campaign Impact Report.
Your support was felt by all Habitat homeowners, like LeAndra, who purchased her Habitat home in 2019. She became the 114th homebuyer that year, and her new home is just blocks away from her mom's house in Frogtown. Her dream came true. Now her daughters have the space to live out their dreams too.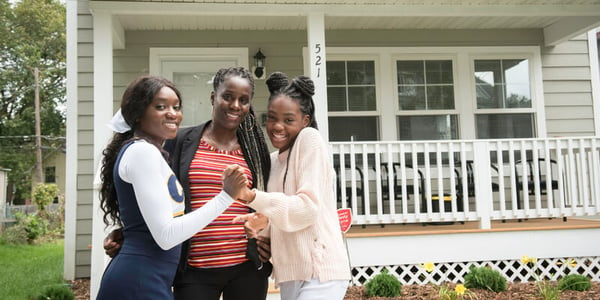 How you can continue your impact
The twin pandemics of COVID-19 and systemic racism have made one thing abundantly clear: homeownership is essential for public health and it's a building block for racial equity.
When you support the At Home Fund, you continue to expand homeownership and protect homeowners well into the future. We believe a safe, stable, affordable home is more critical now than ever before. We'll continue supporting as many families as possible through our homeownership program, but we need your help.
From all of us at Twin Cities Habitat, thank you for stepping up and giving big.