This week is #GiveAtHomeMN week—a reminder for us all to give back to the organizations giving so much throughout Minnesota during this crisis. Please support the Minnesota causes you care about, including Twin Cities Habitat for Humanity.
Your support goes to our At Home Fund to protect homeowners and multiply Habitat homeownership opportunities through this crisis. Plus, when you give, your gift will be doubled thanks to longtime Habitat volunteer and donor Corey Sauer.
I'm inspired by the many Habitat homeowners who are the heroes working the front lines to keep us safe during this COVID-19 pandemic. They are healthcare workers. Janitors. Delivery drivers. Teachers.
Their work is so critical to our community.
Juanita, a Habitat homeowner since 1995, shared that she has three "essential workers" in her immediate family. And her family is just one of more than 1,000 Habitat homeowners across the Twin Cities. Think of all the essential workers finding shelter in a Habitat home right now.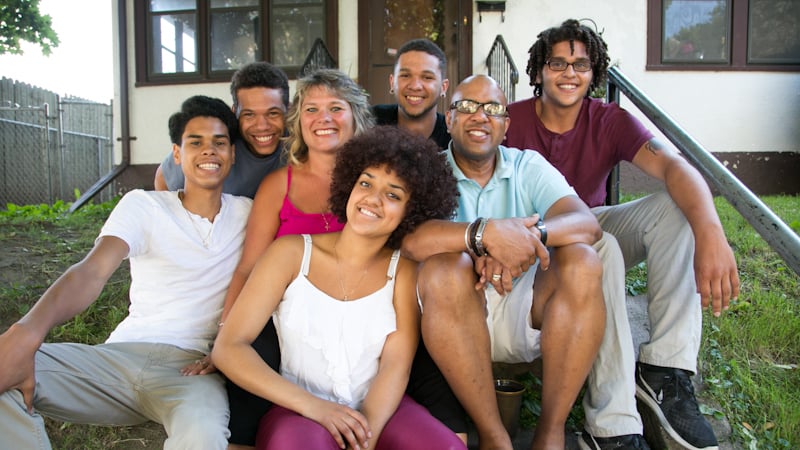 Juanita with her husband and five children in 2016.
While some homeowners are working double time to keep us safe and nourished, others are facing lost incomes or uncertain futures.
And for families still in need of a stable, affordable home, it's even worse. Before all this started, working class families were already facing skyrocketing housing prices and flatlining wages. Now, add on job loss, sick family members, kids at home, food insecurity. When the Twin Cities' affordable housing crisis is compounded with this global health crisis, it's ugly.
But if we know anything at Habitat, it's the power of community. We know how to huddle up, draw plans, and bring people together to get it done. That's why we've launched the At Home Fund to get us through this unprecedented time together.
Your investment in the At Home Fund will help our two main commitments during this time:
Protect Homeowners
Multiply Habitat Homeownership Opportunities
Here are more details for each of the two main commitments made possible by your gifts to the At Home Fund.
Protect Homeowners
No one should lose their home because of COVID-19. We are committed to walking hand-in-hand with Habitat homeowners through this storm. Your support will help us do whatever we can to protect homes for Habitat homeowners, even as they face job loss and illness. And our Mortgage Foreclosure Prevention Program will be ready to assist more Twin Cities homeowners who need those services to save their homes.
Multiply Habitat Homeownership Opportunities
We believe a safe, stable, affordable home is more critical now than ever before. We have hundreds of families in the process of buying a home with Habitat. Your support will help families continue their thorough preparation for homeownership, including virtual one-on-one financial coaching and homeownership classes.
One in four Minnesota families are paying more than they can afford on their housing. Minnesota also has one of the widest racial disparities in homeownership between white and black families. This affordable housing crisis is only worsening during COVID-19, so we're doing everything we can to continue multiplying Habitat's affordable homeownership opportunities.
We've got the plan. Now we need you!
The Habitat family of supporters like you is resilient. Creative. Strong. Generous. You have stepped up in the past. Together, you made home possible for hundreds of families even during the 2008 Great Recession. If you step up again for your neighbors – for your community – I know we'll make it through together.
Your support will help us respond quickly to this new terrain we're traversing together.
Please give your most generous gift to the At Home Fund. Thanks to Corey Sauer, your gift will be matched dollar-for-dollar up to $100,000! Give now and send your friends to tchabitat.org/athome.
All funds raised through the At Home Fund will also go toward the Multiplying the Impact campaign.