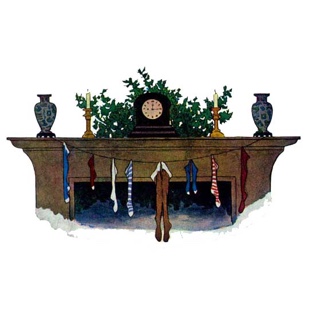 Stuffed stockings are one of the highlights of any Christmas, but the big question is always, "What do I put in their stocking?" Here are 10 suggestions from the Habitat ReStore for what to put in the stockings of the "big kids" in your house:
| | | |
| --- | --- | --- |
| 1) MOISTURE WICKING WORK/FITNESS SHIRTS. Help your big kid stay comfortable when you're working out, or out working in one of these super fitness shirts. Available in blue or gray, long or short sleeve, and in a variety of sizes, these shirts compare to ones you'll find in fitness and sporting goods stores for $15 to $30. STOCKING STUFFER PRICE: $5.00 | | |
| 2) DRAWER PULLS AND CABINET KNOBS. Make it easy for your big kid to spruce up the drawers and cabinets without spending a fortune by putting on new cabinet knobs or drawer pulls. We have a large selection of new, and gently used cabinet hardware. STOCKING STUFFER PRICE: $1 to $50 per set | | |
| 3) DOOR KNOBS AND LEVERS. Help your big kid put a little style, and security, in your holiday with a beautiful new doorknobs. We've got stainless steel, brass and bronze style doorknobs, handles, and deadbolts to fit any door. STOCKING STUFFER PRICE: $1 to $50 each | | |
| 4) PROFESSIONAL PAINT PAILS. Tired of finding old paint trips six months after your big kid finished repainting a room? Give your painting elf and new professional paint pail. It'll make the job go faster, and cleaner! STOCKING STUFFER PRICE: $5.00 | | |
| 5) SANDING BLOCKS. Help your big kid get to a smooth finish on any project with the right sanding blocks. In a variety of sizes, shapes, and grits, we have new sanding blocks that will help smooth out all the rough spots. STOCKING STUFFER PRICE: $6.00 to $9.00 per package | | |
| 6) NEW SAWS. Don't let an old, dull saw chew up your big kid's time, (or your wood!) We have wonderful, brand new saws by Soderholm. STOCKING STUFFER PRICE: $7.00 | | |
| 7) SAFETY VESTS. Sometimes how your big kid looks is more important than what they do, and that's especially true when it comes to safety. All our bright orange or yellow safety have reflective strips that make you visible anytime you're out in the street, or out in the woods. STOCKING STUFFER PRICE: $2.00 | | |
| 8) HOW-TO BOOKS. If your big kid has visions of DIY jobs dancing in their head, don't let lack of knowledge hold them back. Pick up one of our How-To books to make them a pro. Whether they want to fix up a Basement, Bathroom, Kitchen, Deck or Landscaping, we've got the right book for the job. STOCKING STUFFER PRICE: $2.00 each | | |
| 9) CERAMIC BATH ACCESSORIES. The holidays are a great time to do anything in style, and our new, in-the-box ceramic bath accessories, will help your big kid give your bathroom great style. STOCKING STUFFER PRICE: $1.00 each or $3.00 per set | | |
| 10) HEAVY DUTY RAIN GEAR. Staying dry on the job is almost as important as staying safe, our bright yellow, heavy-duty rain gear will help your big kid do both. These suits include a jacket and overalls. STOCKING STUFFER PRICE: $5.00 | | |
If you didn't find the perfect stocking stuffers on this list, don't fret. Come to the ReStore and you're sure to find just the right item to put a smile on your big kid's face. Tools, safety goggles, sinks, stoves, doors, windows, lighting, hardware, cabinets, and even furniture – whatever size stocking you're trying to fill, the ReStore will have something great to put in it!