Family has always been important to Cynthia. So much so that after working for FedEx for 26 years, she retired early in 2012 in order to raise her two grandsons. With one just out of high school and one in 4th grade, she's always keeping busy, and there's always something to do around the house. Cynthia does as much as she can to maintain her home, but with so much going on, she needed a bit of help with some repairs to keep her home safe.
That's where A Brush With Kindness came in.
Cynthia hadn't been able to have her parents over to visit for a while because she didn't have a way for them to safely make it up the steps, so one of the big things A Brush With Kindness did was replace the back stairs and deck and install handrails, so there was a safe and stable entrance that everyone could use.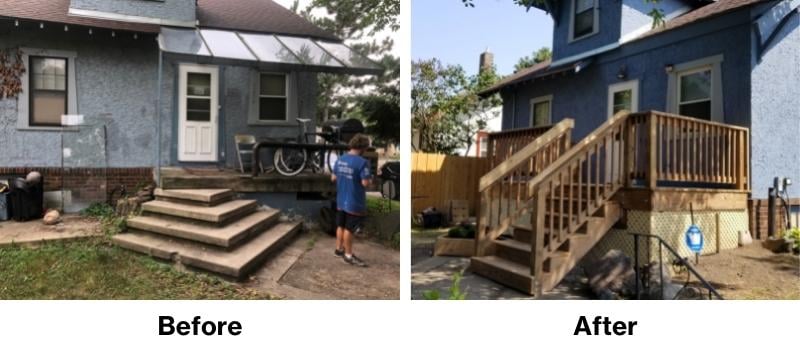 While the project was in progress, Cynthia called her repair plan about her faulty furnace. She was told it was installed incorrectly, so since A Brush With Kindness was already working on her home, she reached out to the ABWK Project Manager, Cindy. Cindy helped her get in touch with the Hennepin County Navigator Program, which connected her with a nonprofit that was able to provide a new furnace and water heater – critical appliances for cold Minnesota winters.
"Cindy has been like a godsend in my life. All the people that worked on my house were the kindest, warmest people that I've seen in a long time. They truly did not cut corners with anything; they put their all into their work and it showed, and I'm very appreciative of all of them. The outcome was amazing."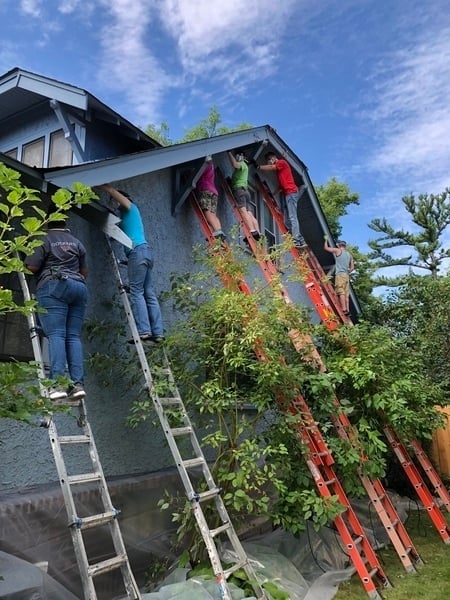 Volunteers painting Cynthia's home.
A Brush With Kindness also did some electrical work, and replaced her faulty refrigerator and stove. The exterior painting was one of the things that boosted the appearance of her home the most, and now she feels very proud of her home. "I love the color and paint on my house, and I love the deck! I get compliments from neighbors, family, and friends on the appearance of my home."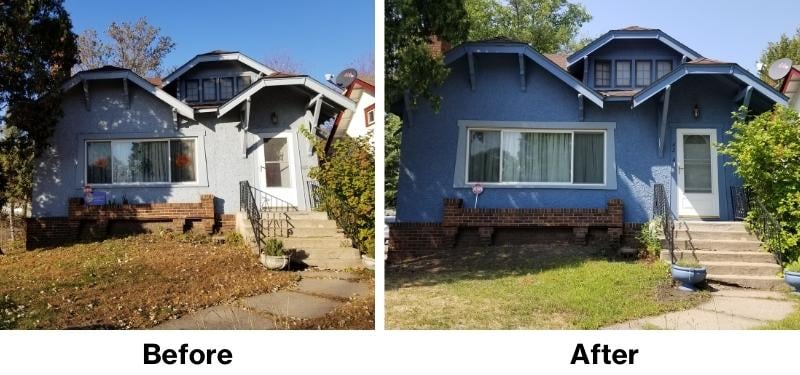 Under ABWK staff members Joe and Mart's leadership on site, not only does Cynthia have a beautifully painted house to come home to, but now she has a safe, code-compliant deck and back stairs that were executed in a way that surpassed her expectations.
While there's still a bit more interior work that needs to be done, Cynthia no longer has to spend so much time thinking about household repairs. She can spend more time doing things she loves, like roller skating with her youngest grandson, and when it's safe to do so, going to movies and plays, R&B and jazz concerts, and live boxing matches. Cynthia has been extremely happy with everything Joe, Mart, and all the amazing volunteers have done.
"I don't know if I have all the words to express how deeply moved I am for all of you who found it in your hearts and busy lives during this critical period in our world of COVID, to come and work on my home. I am so grateful and thankful to have met such a wonderful group of people. I appreciate all that you've done. You've made a dream come true."