Regular Crews at Twin Cities Habitat for Humanity form the backbone of our volunteer base. While reg crew members only make up 3% of annual volunteers, they account for 25% of the total onsite volunteer days!
There are currently 19 regular crews with Twin Cities Habitat—some based on geography, others formed around a church or workplace. Whatever their reason for joining, all regular crew members bring consistency, a passion for the mission, and a strong bond of friendship.
So, who are these reg crew members? Check out a few of these dedicated volunteers.
Steve Roers: Dakota Crew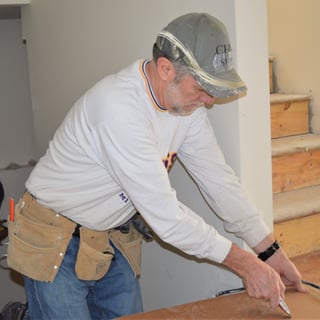 Steve Roers began volunteering for Habitat about 20 years ago through his church, Mary, Mother of the Church in Burnsville. He was also doing volunteer work for Feed My Starving Children and Loaves and Fishes through MMOTC.
He remembers being on-site with future Habitat homeowners and admiring their diligence as they put in their hours of sweat equity. He smiles as he recalls the excited kids already "divvying up the bedrooms" in the unfinished space. Over the years, he has enjoyed working with the other Habitat volunteers and learning new carpentry and construction skills
Steve retired in early 2017 after a 32-year career in information technology with Land O'Lakes. Now, he volunteers with the Dakota Crew every Tuesday and drives a van for Metro Mobility three afternoons a week, getting people with disabilities or health conditions where they need to be. He says he "enjoys giving back."
Steve and Mary, his wife of 35 years, have a daughter and a granddaughter.
Rudy Anderle: Northwest Regulars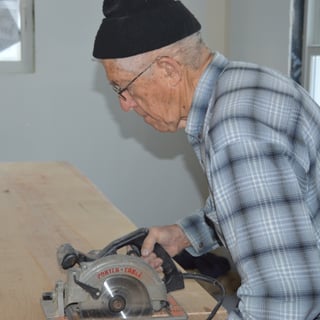 In over 20 years of volunteering with Habitat for Humanity, Rudy Anderle has gone from being not very handy to someone able to take on very challenging construction projects. In 1995, Rudy began working with a Habitat church group in the Northwest suburbs, fitting it into his schedule as a school teacher. After retiring in 2000, he joined the Northwest Regulars crew, working Wednesdays and Fridays year-round. He became the leader of the Northwest Regulars in 2017. Rudy says that by working alongside more experienced volunteers, he was able to learn skills like sheetrocking, finish carpentry and siding installation. As a side benefit, Rudy used his Habitat skills to add a kitchen addition to his house, doing most of the work himself. He has also worked with each of his four grown sons on remodeling their homes, passing along the construction skills to the next generation.
Several things have motivated Rudy's years of volunteering at Habitat. He enjoys the camaraderie of the Habitat crews. He also likes to teach construction skills to less experienced volunteers. "Once a teacher, always a teacher," he says. Most importantly, he is awed by the process of enabling young families stuck in undesirable rental situations to achieve homeownership.
Rudy has been married to his wife, Lucy, for 53 years, and in addition to their sons, they have eight grandchildren and one great grandchild.
Jim Wehri: South Metro Regulars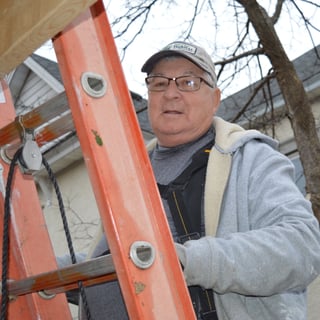 Jim Wehri describes himself as "kind of a do-it-yourselfer." So, when he retired in 2009, he was looking for a volunteer opportunity to do something worthwhile – interesting work that would enable him to meet new people. After discussing possibilities with Twin Cities Habitat, he joined the South Metro Regulars and found that it fit his needs very well. He enjoys being able to take on different building challenges and learn new skills in the process. He believes that Habitat is filling a need in our society that is not met sufficiently by the economy. "The longer I work in Habitat, sometimes side-by-side with the new homeowners, the more aware I have become of the need for affordable housing," he says.
Jim is retired from a long career in government work, both with Hennepin County and the state court system. He and his wife, Rita, have three grown children and two grandchildren.
---
A big thanks to all regular crew members, and all Habitat volunteers, for building homes that will impact families for generations. There are so many volunteer opportunities with Twin Cities Habitat!