Nearly 100 people gathered at Habitat's offices on Saturday, October 22 for the fourth annual Raise a Glass for Tomorrow fundraiser. Hosted by Habitat's Young Professionals Network (HYPN), the event featured tastings from 13 of the area's best brewery and eatery establishments, games, prizes and a program. This fun-filled evening not only provided attendees with fantastic food and beverage samplings, but promoted great networking opportunities, all while raising money and awareness for Habitat!
Established in 2009, HYPN is a group of individuals in their 20s to early 40s seeking to build a Twin Cities where everyone has a safe, affordable place to call home, while also providing exceptional networking opportunities for future leaders. Last year over 400 people volunteered with HYPN and more than $20,000 was raised to support Habitat's mission in our local community.
We love seeing new faces at HYPN build days and events! The HYPN group volunteers at a Habitat build or repair site once or twice each month, and regularly hosts happy hour networking opportunities. Stay connected with all that is going on with HYPN by liking our Facebook page, signing up for our bi-monthly enewsletter, or visiting the HYPN website.
Thank you to all the sponsors and vendors who participated in this year's Raise a Glass for Tomorrow fundraiser. Your support allows us to come to together to help build a brighter future for Twin Cities families.
Program Sponsor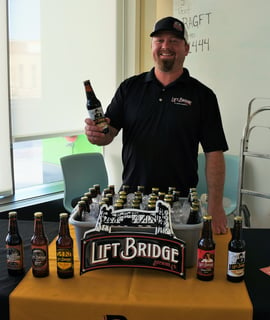 NFL Alumni
Vendors
56 Brewing
Alexis Bailly Vineyard
Indeed Brewing Company
Lakes & Legends Brewing Company
Lift Bridge Brewing Company
Lionheart Cider
Lucia's Restaurant
Nordskogen Coffee Company
Number 12 Cider House
Sidhe Brewing
Silhouette Bakery & Bistro
Tin Whiskers Brewing Company
Wholesoul