When she announced her retirement, Susan Haigh said, "Habitat is so special because it is a place where we can live out our values." She's right. It's a special place—and it's grown ever more special since she joined in 2005.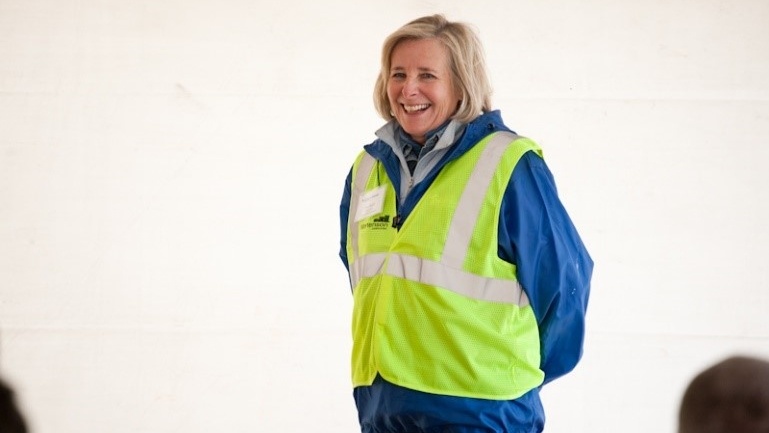 While leading Twin Cities Habitat as President & CEO, Sue has lived out her values of generosity, gratitude, humility, and compassion. When she retires in June of this year, she'll leave behind a legacy of innovative thinking, commitment to partnerships, and passion for our mission. More importantly, she leaves an impact on the Twin Cities community that multiplies for generations.
But none of this is possible without YOU. Sue's impact is your impact. You, too, live out your values through Habitat. You bring your generosity and passion to our build sites and ReStore, to the Hard Hat & Black Tie Gala, and to dozens of happy home dedications each year.
In partnership, you and Sue have set up Twin Cities Habitat—and so many families—for success as we head into the next chapter of our history.
Here's a look at what you and Sue have accomplished in partnership over the last 13 years:
Thank you for your partnership in getting us to this point. Now, you are key to how far we go. Your support determines our growth and our impact. Give a gift. Volunteer. Attend an event. Every time you show your support, you build stability in our community that multiplies for generations.
Sue asked me to leave you with this final thought:
Ponder the words of Mary Oliver: "Tell me, what is it you plan to do with your one wild and precious life?" I hope you will commit your wild and precious life to love and treasure every child. Through Habitat, you create the wonder, comfort, and safety of home—which every child deserves. In the end, it is only the love we give and the good we do that matters.
March 23, 2018 Update
We're excited to share that Minneapolis St. Paul Business Journal announced that Sue is on its list of Minnesota's Most Admired CEOs! The award recognizes 10 top executives in Minnesota who demonstrate strong leadership and integrity, manage impressive financial performance, and show a commitment to our community. There's no doubt that Sue belongs on this list. Congrats, Sue!