Close to 150 young professionals from gathered at The Venue in Downtown Minneapolis on Friday September 25th for the 3rd annual Raise a Glass for Tomorrow fundraiser. The event, hosted by the Habitat Young Professionals Network, featured drink specials from Du Nord Craft Spirits, hors d'oeuvres, games, a photo both, a silent auction and great music from DJ Jill Riley of The Current.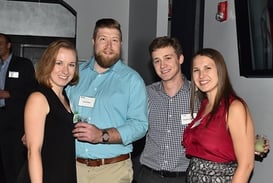 This fun-filled evening provides great networking opportunities for attendees and inspires a tremendous amount of support for Twin Cities Habitat. This year, dozens of guests signed up to volunteer at an HYPN build day and $19,000 was raised to help Habitat build a Twin Cities where everyone has a safe, affordable place to call home.
"We're a group that likes to do a lot of good and have a lot of fun. We support Habitat's mission by organizing volunteer days on build sites and attending social events like tonight's" said Jon Slock, the Chair of the Habitat Young Professionals Network.
Please check out photos from the event taken by Michael Moschogianis here.
Established in 2009, the Twin Cities Habitat for Humanity Young Professionals Network (HYPN) is a group of individuals in their early 20s to early 40s seeking to build a Twin Cities where everyone has a safe, affordable place to call home while also providing exceptional networking opportunities for future leaders.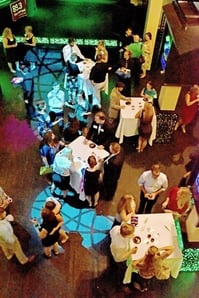 Becoming involved in the Habitat Young Professional Network is as easy as signing up for a build day or joining our email list. Joining the email list will get you in the loop on all of the social and networking meet-ups during the year. With more than 20 build days hosted by the HYPN, plus happy hours, quarterly networking events and leadership development opportunities, members have the chance to make a difference in their community as well as meet other socially -conscious young professionals.
We hope to see you at an upcoming HYPN event soon! We would like to thank our Raise a Glass for Tomorrow sponsors for allowing us the chance to connect and help build a brighter future for Twin Cities families.
Diamond
Valspar and The Current
Platinum
Avionte and NFL Alumni
VIP Tasting Sponsor
Du Nord Craft Spirits