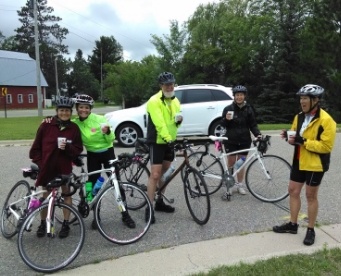 This year marks the 23rd year of the annual Habitat 500 bicycle ride. The goal of the bike ride is to raise awareness about the need for decent, safe, affordable housing in Minnesota and serve as a fundraiser to support Habitat affiliates. Each ride participant raises funds for the event (the average amount raised is typically more than $2,710 per rider!), and then designates the Habitat for Humanity affiliates they wish to support (both locally and around the world).
"From 1993 to 2001, the Habitat 500 was coordinated by Twin Cities Habitat for Humanity," said Kristin Skaar, Special Events and Communications Manager for Habitat for Humanity of Minnesota. "In 2002, Habitat for Humanity of Minnesota began coordinating the Habitat 500, due to the fact that it was a fundraiser for affiliates around the state of Minnesota, not just Twin Cities Habitat. These days, we have participants from all around the United States, and in 2014, the Habitat 500 raised a record $520,000!"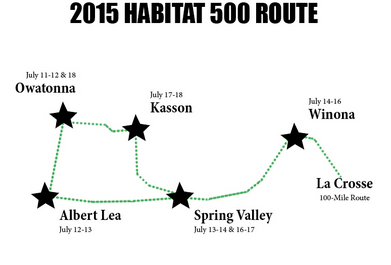 This year's fundraiser will take place on July 12-18, 2015 and cover 500 miles over the course of seven days (that's an average of 71 miles per day!), beginning and ending in Owatonna, Minnesota. Riders will visit Habitat affiliates along the way, in addition to various roadside attractions.
A number of Twin Cities Habitat supporters have participated in the ride over the last several years, including Ruth Lunde, who is planning her 6th consecutive ride this year!
"Habitat for Humanity is a great organization, giving a hand-up (not a hand-out) to hard working families who would not on their own be able to buy a home," Ruth shared. "In a volunteer role, I interview families that apply to Twin Cities Habitat, and I see first hand, the needs of families, and wish we could build more Habitat homes. This influences me to increase my own personal donation to Habitat, as well as inviting others to donate, with the Habitat 500 fundraising. Each year I've done the ride, I've reached out to more people to invite them to donate. This is my 6th year riding the Habitat 500, and I am sending out over 200 letters to invite people to donate to Habitat!"
The Habitat 500 ride is coordinated and hosted by Habitat for Humanity of Minnesota, and there's still time to register! The ride is open to a limit of 135 riders ages 13+ (youth riders ages 13-17 must be accompanied by an adult), and there are currently 25 spots available. There's also new option of a three-day ride this year, for those looking to dip their toes into the Habitat 500! Ruth also had a few words of advice for Habitat 500 beginners:
"It is great how this is a 'ride', not a 'race'. I am not a fast rider myself, but every much enjoy the ride. There are so many interesting people who are part of the Habitat 500, whether as riders or volunteers or staff; it is fun to get to know the people. Feel free to invite people you know to sponsor you - at first I was apprehensive about the fundraising, but I found that Habitat has such a good reputation, that helped my fundraising a lot."