Volunteer Spotlight on Ruth Lunde
By Habitat Staff
I worked with Ruth Lunde as soon as I started my new position at Habitat to help schedule her church—Immanuel Lutheran Church of Eden Prairie—to work on a home repair project in September. Since then, I've worked with her to organize a build day for her church every other month.
A few months ago when I was helping out with our family matching process, I read a thoughtful and thorough home interview summary signed by Ruth as well. I wondered how much further she was involved with Habitat. Talking with some of my coworkers, I learned that she also recruits and schedules volunteer days within her corporation, Western National Mutual Insurance Co., and she even raises enough funds with them to sponsor a table at the Hard Hat & Black Tie Gala. I also learned that she biked the Habitat 500 last year and raised enough money to sponsor the full cost of a Global Village home in the Philippines. Impressed? Wait till you hear her story.
We went to lunch recently so I could get to know her a bit more. When I asked Ruth to pick a favorite of her volunteer obligations, it seemed I had halted the conversation. I figured it might be like asking a voracious reader to pick a favorite book. She instead chose a stronger analogy: "Well. I have four kids. It's like asking me to pick a favorite kid. I can't do that. I love them all for what they are."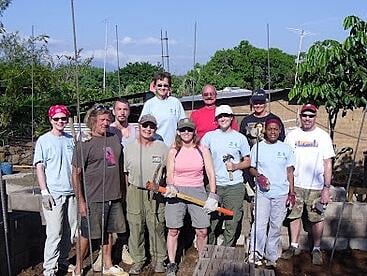 Ruth's first involvement with Habitat for Humanity was in 1995 when she traveled to Guatemala on Habitat for Humanity International's Global Village Trip and spent a week working with other volunteers to build a home (pictured left: Ruth's last HFHI trip to El Salvador, where her son Bryan joined her on the team building the Habitat home). Since then, she's gone on five more Habitat International and Global Village trips to the Philippines, Bolivia, Hungary, Kenya, and El Salvador. "I really encourage people to go on one of these international trips. You parachute into another culture and work shoulder to shoulder with people whose lives and cultures are so different from ours." When she came back home from her first trip, she looked around for other ways to get involved with local housing efforts here. That's when she started volunteering our Twin Cities affiliate.
In 2000 she started volunteering as a home interviewer. This volunteer position involves meeting with our prospective homebuyers in their homes to assess their need for a Habitat home and their willingness to partner with Habitat. Ruth says that this experience is "eye-opening, seeing first hand why they would like a home, seeing their circumstances." Her relationship with homeowners sometimes extends further as she's also volunteered to meet with families after they've been chosen for the home and write an extended biography about them. She's also been a Neighborhood Family Partner for more than a few families over the years and has loved the relationships that have formed from the Habitat partnership with families.
Habitat's model of family partnership is one of the main things Ruth likes about the program: "It's not just a hand out—though there are definitely times for hand-outs and I contribute to some hand-out programs as well—but for homeownership the partnership really speaks to the sustainability of Habitat and our families." Also speaking to Habitat's sustainability as an organization is our ability to adapt to the communities' needs and our ability to take risks.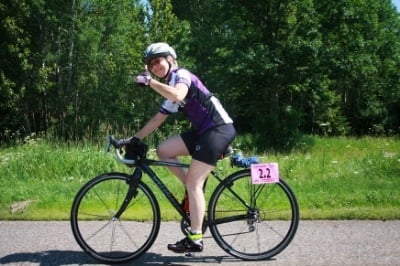 While Ruth may not have a favorite volunteer role, my favorite role of hers to share is her participation in Habitat Minnesota's bicycling race the Habitat 500 (pictured left: Ruth biking the Habitat 500. Thumbs up!). Biking the Habitat 500 started out as just a bullet point on her bucket list. This year marks her 6th consecutive year of riding her bike the 500 miles around Minnesota and raising funds to support Habitat. Her current efforts still speak back to her initial experience with Habitat. Last year in support of her bike ride she surpassed her donation goal and raised $11,263. She spread this money three ways: she gave 1/3 to Habitat Minnesota, 1/3 to Twin Cities Habitat for Humanity's Thrivent Builds program, and 1/3 of to more than fully fund a Habitat home in the Philippines. On her dedication to helping abroad she says, "The homeowners I've worked with abroad have had so much less than the homeowners I've worked with here. The changes are much more visually drastic. Twin Cities' homeowners are much better off just by being here. This is not to say that Habitat homeowners don't need the program. They definitely do---it's just a very different standard."
When I asked her if there was anything else she'd like to share about her volunteering, she responded: "Even things originally I didn't think I would like, I have come to enjoy. Originally with the Habitat 500 I was discouraged by the requirement to raise funds, but now I'm good at it and I actually really enjoy doing it." She sends some of her funding appeals in her Christmas cards and considers it "another excuse to keep in touch." This year, she set her goal again at $10,000. To sponsor her ride and support Habitat for Humanity locally and abroad, check out her donation page.
During our lunch meeting, it was hard to keep the interview on track because she is so warm, engaging, and curious. Balanced conversation felt a lot less stilted, as it often does. I'm really grateful for the opportunity to learn from such a dedicated and involved volunteer her reasons for starting her service and, twenty years later, her motivations for continuing to support Habitat's missions. Working in the office this year and scheduling volunteers, I feel sometime a little disconnected from our main mission. Talking with Ruth reinvigorated my own passions for caring about Habitat for Humanity and reminded me how grateful I am for the supportive community of volunteers that we have here. We are incredibly grateful for everything Ruth has done and continues to do over the years to eliminate poverty housing and make affordable homeownership a matter of conscience for all.