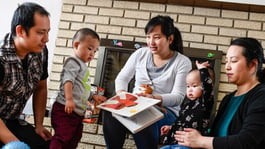 Before buying a house, every person needs to have a home inspection. The professional who looks over the house will likely find minor concerns with the home. That's common. But, the inspector could also find larger issues that the buyer shouldn't have to fix. Those are the kinds of problems that can be home inspection deal-breakers.
Before buying a home, here are 9 home inspection deal-breakers to look out for:
What is a Home Inspection?
A home inspection is when you hire a professional to look for issues in the home you want to buy. The professional will look at the house's structure, stability, plumbing, and electrical. If the issues are large enough, the seller should fix them.
House is Prone to Flooding
Is the house near a river, pond, or lake? Is the yard lower than the neighbors' yards? If so, the yard or house may flood during big rain storms. A house that floods may make your mortgage loan and insurance more expensive. It may also make it more difficult to resell once you're ready to move.
Ask your Realtor, neighbors, and city management about flooding in the area or check the FEMA Flood Map Service Center.
Curled, Broken, or Missing Roof Shingles
A roof usually lasts about 30 years. So, when was this roof installed? Your inspector will look at the quality of the shingles. Are they curled, broken, or are some missing? These can all be signs that you'll need a new roof very soon. Crooked shingles mean poor installation. Uneven or sunken areas on the roof may be a sign that a major repair is needed. Repairs to a roof can cost anywhere from $3,000 to $15,000 or more. The gutters alone could cost $1,500-$2,500.
Inspect soffits, eaves, and the trim along the roof for rotten wood. This may be a sign of leakage. Inspect the interior ceilings and windows for water damage to avoid this home inspection deal-breaker.
Cracking, Crumbling, or Bulging Foundation
Major cracks, flaking and crumbling stone, or a bulging foundation are big problems. Repair can be expensive and involve digging.
Be aware of dampness in the basement, musty odors, and signs of settling like uneven floors and windows or doors that stick. Repairs for this type of issue can cost anywhere from $1,000 to $20,000 and above.
Bad Plumbing
Weak water pressure is a sign that the water flow is narrow. This usually occurs due to imperfect internal plumbing or lack of water volume from the street.
Stains under sinks and on ceilings are signs of leaks that need repair. Check around the toilet, dishwasher, and ice maker to make sure that the floor isn't soft from leakage.
Lastly, have your inspector verify that the house doesn't have polybutylene (PB) pipes (used in the 1970-80s). This type of pipe can fail without warning and cause major damage.
Repair or replacement of plumbing or the water pipe to the street can cost $5,000-$50,000.
Slow Sewer Line
Slow drainage or water backing up into the sinks could mean the sewer line to the street needs replacement. Check the drains on all floors as well as the laundry machine to verify strong, fast drainage. If the sewer line needs repairs or replacement it could cost $5,000-$50,000.
Faulty Electrical
Poor electrical wiring can be a major hazard and a massive expense.
Old or defective wiring will need to be brought up to code. Note: A wire that goes nowhere is a sign of poor maintenance.
Your inspector should check the main electrical panel for working circuit breakers. Turn on lights and appliances to check for dimming lights that show excessive stress on the system. Repairing or replacing electrical can cost $3,000-$10,000 or more.
Failing Furnace
Ask for maintenance records and heating bills for the past two years. These will give you an idea of how efficient the furnace is and how it has been maintained. If the furnace is old, removing and replacing it can be a sizable expense. This repair could cost as little as $150, or a replacement could cost $12,000.
Black Mold
Black mold is toxic and negatively affects the health of anyone living in the house. It grows in places that have flooded or experienced major roof leakage. It also gives off a bad, musty odor. It can be found in damp sheetrock, on basement walls, and the floor.
Presence of black mold requires removal of all affected materials and mitigation of the source. This issue could cost you $500-$10,000 and above.
DIY Disaster
Do-it-yourself projects are not always done well. Look beneath the surface to make sure the work is of good quality.
Verify that any additions or renovations to the house were done by a licensed contractor. Call the city to check if the homeowners applied for permits to do the work. Unlicensed and uninspected work may not be up to code. This can make it difficult to get a loan or homeowner's insurance.
You want to be comfortable buying the house in the condition it's in. If you're comfortable with the work that needs to be done or you're able to request the seller pay for any big repairs before signing closing documents, there's no need to worry. But, if you'll be responsible for fixing issues like the roof, plumbing, etc., you may be better off finding a different home.