Guest Blog By:
Debbie Campbell, Twin Cities Habitat's Homeowner's Insurance Educator
I've been a Twin Cities Habitat volunteer for a couple decades starting with participating in Women Build, Global Village trips to Costa Rica, Dominican Republic and Mozambique, and advocating at Habitat on the Hill. I'm a claims advocate, resource, and my personal favorite role is teaching new homeowners about homeowners insurance for Twin Cities Habitat.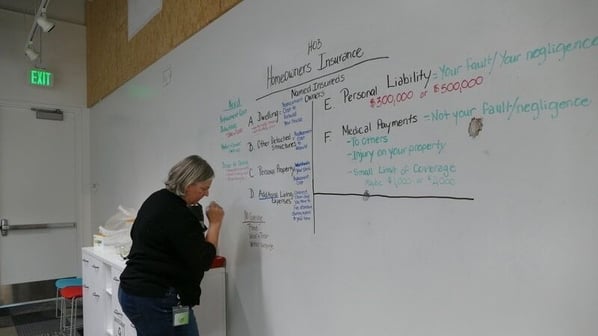 I've worked in insurance since 1973 and have been a licensed agent since 1980. I am passionate about educating future homeowners on insurance and what coverage is needed to protect one of the biggest financial investments we make, a home.
Homeowners Insurance
Homeowners insurance is an important and required protection for your property and personal liability. Here's a snapshot of what homeowners insurance covers, how much coverage you need, how premiums are determined and where to purchase it.
What does homeowners insurance cover?
Dwelling: The building you live in and anything attached to it such as a garage.
Other Structures: Buildings detached from the dwelling such as a garage, fence, or storage shed.
Personal Property: Your things that are everywhere: your home, garage, car, gym locker, backpack, suitcase abroad.
Additional Living Expense: Additional costs to live elsewhere when your home is being repaired as a result of a covered claim.
Personal Liability: Coverage for your fault or negligence resulting in another persons' injury or damage to property. This includes your defense attorney costs. Coverage is worldwide - wherever you go your personal liability coverage follows you.
How much coverage you need:
Dwelling: Your coverage limit is the cost of labor and material to rebuild your home. The amount of coverage is not the amount of your mortgage, the listing price, or tax value. The coverage is based on the characteristics of your home (size, number of bathrooms, stories, basement, attached garage, etc.) and what your agent determines is the cost to rebuild your home. If your home is a townhouse you will need the insurance information from your Homeowners Association Bylaws to help determine what coverage limits you need.
Personal Property: About 40% - 50% of your dwelling limit. Remember, this is all of the items contained in your home. You can increase or decrease this coverage limit.
Additional Living Expense: This coverage limit is set by the insurance company. If you are getting quotes from different insurance companies look to see what the limit is. The more coverage the better.
Personal Liability: The recommended minimum limit of coverage is $300,000. I know it sounds like a lot, but consider the costs of these scenarios: your child pushes another child off the swing at the park and injures the other child or your dog bites someone.
Defense Costs: There is no limit, but it's the insurance companies' attorney and the courts' decision and final settlement.
How are premiums determined?
Premiums are determined by coverage limits, location, claim history, payment history, and insurance score (the combination of your credit score, claim history, and payment history).
Where should I purchase homeowners insurance?
Recommended: Start with your auto insurance agent. You will receive a discount if your home and auto insurance are through the same insurance company. You can also use a local independent agent who will have access to several insurance companies and can determine which is the best fit for you.
Not Recommended Do not purchase via the Internet. It is difficult to ensure that you will purchase the coverage and limits that are right for you.
Insurance policy must haves:
For all homeowners policies: Policy in the Named Insured of all homeowners, replacement cost coverage, policy deductible (recommended $500 or $1,000 for new homeowners), personal liability coverage ($300,000 or $500,000), water and sewer back-up endorsement.
For townhouse owners only: a copy of your Association Bylaws Insurance Section.
To complete the purchase of your new home with your mortgage company you will need a binder as proof you have purchased and paid for the first-year premium on a homeowners insurance policy. The binder is a document provided to you by your agent or insurance company.
The content provided is taught in our Habitat Homebuyer Education classes when you buy with Habitat.