Nevonne has lived in North Minneapolis for a long time, for over 20 years. Her home is where she makes memories with her family, spends time relaxing, and enjoys her favorite hobbies. A couple of her favorite parts of her home are her clawfoot tub, and the eat-in kitchen.
One of the places she wanted to spend more time was her deck, but it was old, the wood was rotten, and boards were missing or cracked. The deck was unsafe to use and is Nevonne's primary way to get to her garage. A Brush with Kindness decided it needed to be replaced so Nevonne and her future visitors would be safe.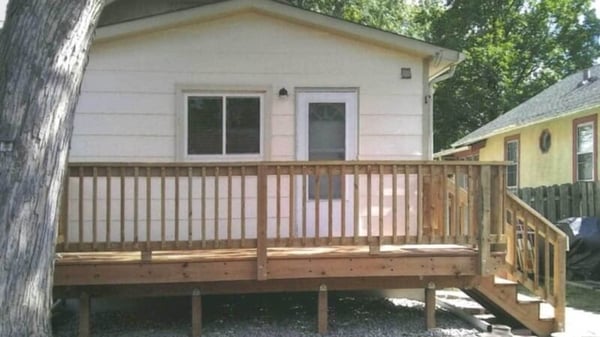 Nevonne's home
After retiring, Nevonne didn't have a lot of money for big repairs, even after planning for it. Sometimes life just happens.
Nevonne had known about Twin Cities Habitat for Humanity for years, but one day, she was sitting at home, watching TV, and one of Twin Cities Habitat's ads came on. She always thought we only did new home construction. She never realized that we had other programs – like A Brush With Kindness – a paint and home repair program that partners with homeowners to affordably maintain their homes.
Once she was accepted to the program, Nevonne made a list of repairs she needed done. Then the team got to work on her bathroom window, fixed her door, painted her garage, and repaired her deck. They even brought her lunch! She was happy she didn't need to cook for a big group of people, and said the team really made her feel like family.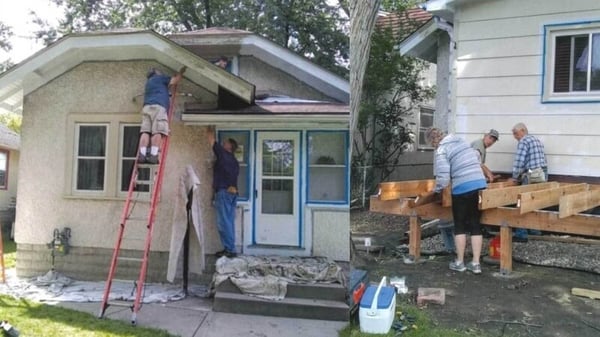 ABWK volunteers working on Nevonne's home
Nevonne has always been a DIY-er – she painted her kitchen last spring – and likes working on smaller projects around her home, so she made sure to pitch in and join the painting crew!
Everyone had a wonderful time working together, and results were incredible. Her deck has all new wood and is stable now, and provides a great place to relax and enjoy time in the backyard up off the grass.
"Now my home feels like a home," she said.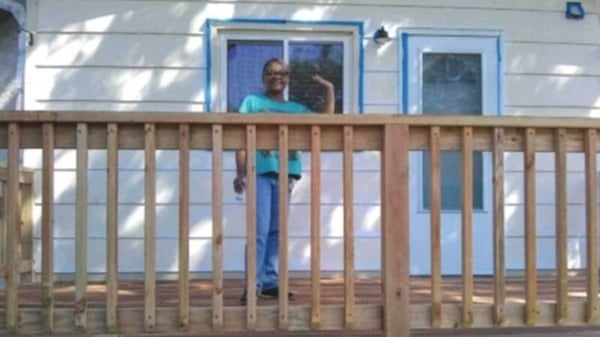 Nevonne on her new deck
Nevonne loves having her grandkids over for BBQs. Unfortunately due to COVID-19 she doesn't get to have them over very often, though she does get to talk to them regularly through video chat. To keep things festive, she's put some chairs and umbrellas up, and also enjoys gardening outside. The repairs have made the backyard, and her house, much more enjoyable.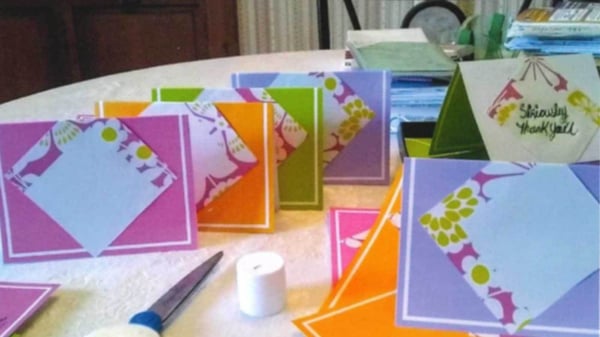 Nevonne's thank you cards to volunteers
After the A Brush with Kindness crew left, she made sure to write personalized thank you notes for the team that worked on her house. Their work had made such an incredible difference.
"Another big thanks to Habitat, they made my life a little easier."- Nevonne