As you get older and retire, you'll likely spend more time in your home than you did previously. This is certainly the case for Charles Ricard. He spends the majority of his time at home, so it's especially important for his space to feel safe and comfortable.
Charles' home is 116 years old, and had suffered a significant amount of rain damage on the roof and the walls. The ceiling was leaking badly, and the plaster walls were cracking and had water stains all the way down to the floor. If he tried to use a nail to hang a picture on the wall, the plaster would crumble and tear out part of the wall. Charles likes lots of pictures in his home, so this was particularly disappointing.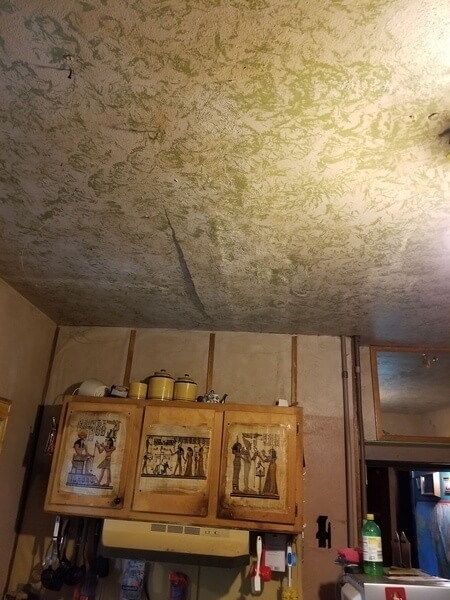 Water damage to the kitchen ceiling.
There also was not enough counter space to prepare food, and the dining room table was too low to work on without exacerbating back pain for himself and his roommate, Chuck. Another option was needed.
An old fuse box was also a safety hazard and needed replacing, but such work can be extremely expensive. Charles applied for A Brush With Kindness, as the program focuses primarily on health and safety repairs, and these were items that he and his roommate couldn't repair on their own.
The Wednesday Regular Volunteer Crew (ARegs) was only able to do a portion of the work this year – some from February to March, prior to the stay at home order, and some during a two-week period at the end of autumn. However, the team made a significant impact on Charles' home and his quality of life, thanks in part to the excellent supervision of Alison Riest.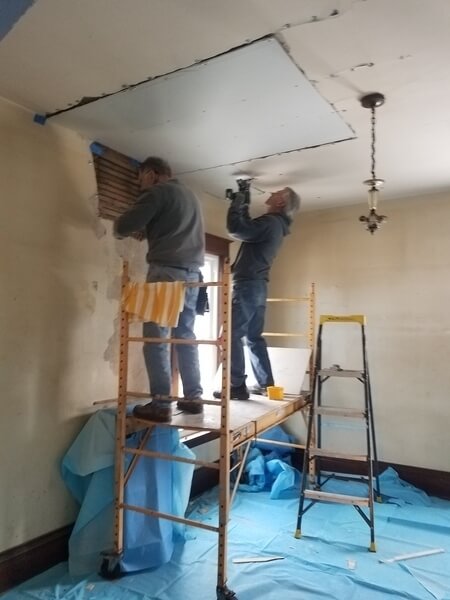 Two volunteers repairing the dining room ceiling.
One of the projects that made a major difference was repairing the ceiling and the walls in the kitchen and entry area, and the walls in the living room and dining room. This included priming and painting all of those walls after repairs. Charles said about the changes:
"They painted it really nicely. The living room is lavender and the dining room is blue. They're really pretty colors; they really did a good job painting."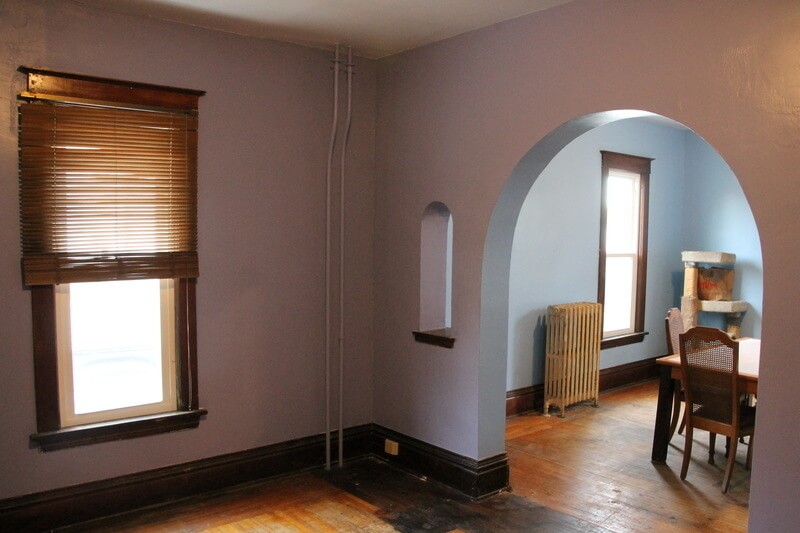 The new repaired and painted walls in the living and dining rooms.
The dangerous fuse box was replaced with a 100-amp panel by an electrician, and the basement stairs were repaired and replaced where needed. A new sink and faucet were installed in the kitchen, as well as new cabinets and countertops.
A great addition to the dining area was a new counter-height table with a butcher block top. Volunteer Dave described the search for a unique table:
"Since there was so little counter space for food prep, the household was using the kitchen table for food prep. This was not ideal, both for the fact that the tabletop was not at counter height and also not a food-safe surface.

The hunt was on for an unusual sort of table with a top at counter height. The New Brighton ReStore had a suitable table base that could be re-configured for a new butcher block top and the ReStore donated it to the project.
Since the table base was somewhat wobbly, split by design for an additional leaf (unneeded) and only designed for a relatively light tabletop, it was disassembled off-site and reconfigured with new additional structure to stiffen the base and add support for a heavy butcher block top. A new butcher block tabletop was purchased from BMO (Building Materials Outlet) in Eagan, edge shaped, sanded, and finished with several coats of a food-safe finish consisting of beeswax and mineral oil."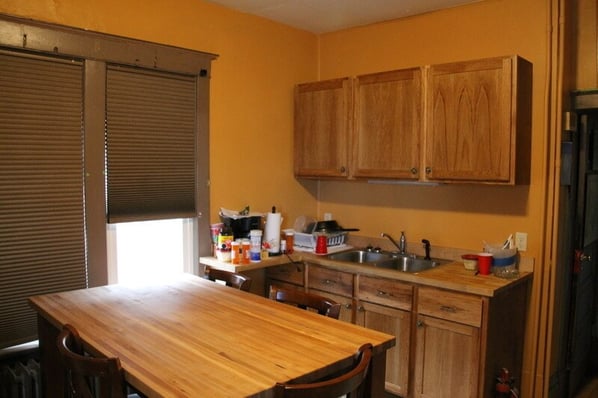 New, sturdy cabinets, a new sink, and the new counter-height table.
Finally, two new back doors were installed, as there had been a break-in attempt at Charles' home. This added security and will block cold drafts from coming in.
While Charles didn't get much of an opportunity to talk to the volunteers while they were working, he said that when he did speak with them they were very kind, and he appreciated both the amount of work they did given the circumstances and that they did a great job cleaning up before they left.
Charles is pleased to have the opportunity to express his thanks to the ARegs, as he didn't have the chance to when they left.
"I just want you to know how grateful I am for this whole experience. I could have never done it on my own."
He's very happy with all the work that was put into his home, and even joked "it looks so lovely, I'm thinking about charging people to come in the house."
Charles always wanted a house that looked like a museum, and now he can hang as many pictures as he wants on the new sturdy walls.