Preserving affordable housing is just as important as creating affordable housing. That's where the A Brush with Kindness program comes in. Last fall, three volunteer groups from Prudential Financial, BAE Systems, and APi Group Inc. came together to do some work on Mark's home which was in need of new siding and several other repairs.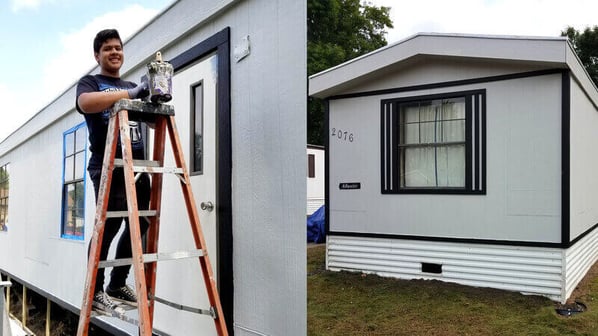 "These volunteer crews really stepped up to the challenge of stabilizing Mark's home," says Cindy Lehner-Smith A Brush with Kindness Project Manager. "After all of the work was completed, the citations were removed that was given by his housing development. His home now looks brand new."
Mike Robertson, A Brush With Kindness Program Manager says that their team is frequently seeing that people just need some sort of affordable home repairs because of fixed incomes or are not able to make a commitment to a large home repair. A Brush with Kindness is then referred to homeowners from other organizations such a church's, social service agencies, and from cities that have a given a homeowner a citation. "We offer a financial partnership, or forgivable mortgage as a solution so they may stay in their home. Mike commented, "We don't want homeowners to think they can't buy groceries because they have to make a payment."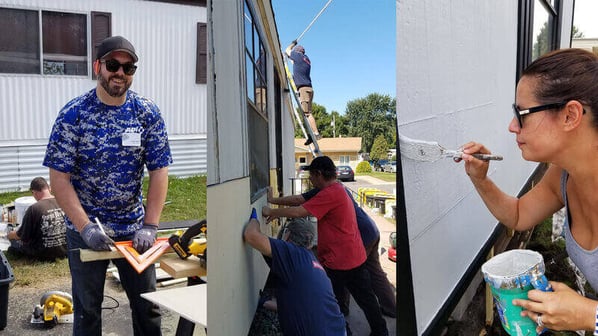 Most A Brush with Kindness projects can range from days to weeks depending upon the complexity and size. Scrape and paint projects or bathroom remodels, for example, are typically scheduled for two weeks on site. While simpler handy-repairs require only a day or two to
complete. Mark's home needed several days and had some other "surprises" after work began. But the volunteer crews were happy to work on a veterans home. It seemed to spark their energy and the desire to do even more.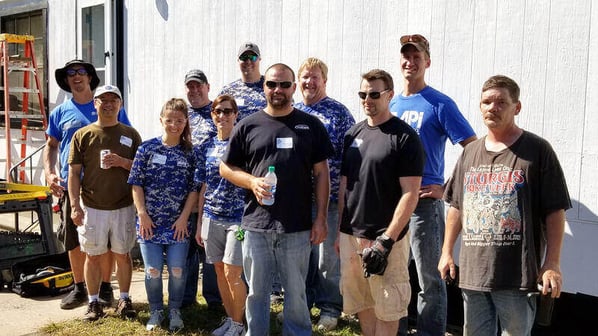 Mark (the homeowner) was there everyday. He was there to help and show his appreciation for all of the hard work done to bring his home back life.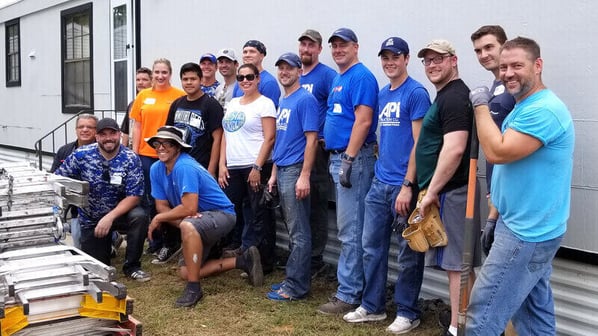 "Volunteers who can be flexible are the best," Mike Robertson says. "It may rain, we may finish early, we may change locations, or we could find more extensive work that needs to be completed. Twin Cities Habitat volunteers really make a deep impact in someone's life and we appreciate them so much on projects like this."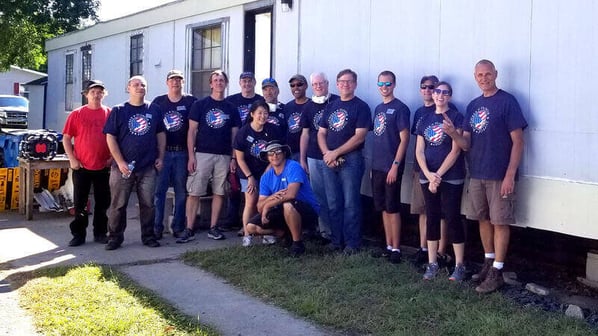 To find out more about the A Brush with Kindness program, visit our program page for requirements and the application process.
If you'd like to help a family stay in their home, consider making a donation or let us know you'd like to become a volunteer on the next A Brush with Kindness project here in the Twin Cities.