If you've been to a bank anywhere in the Twin Cities within the last few years, chances are Hunde's been there too. But even after visiting every bank he could find over the last decade, he couldn't find a mortgage for a home. Until Habitat.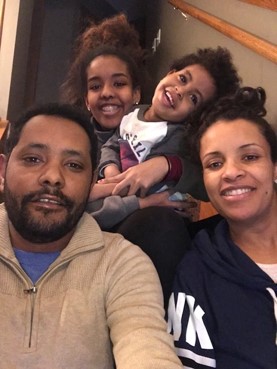 Hunde and his family moved to the United States from Ethiopia in 2008. Not long after, he began dreaming of buying a home. He shared his story at Habitat on the Hill 2018; here's a bit of it.
"I've never been happy—I've never felt like a full human being to provide a house for my family," Hunde said. "I wanted to feel the pride of owning a house."
He visited every bank he could in hopes of obtaining a mortgage. But time after time, he was told no. He was denied because of his credit history, or because he switched jobs to provide for his family (at one point he was working three different jobs at once). He was accepted for a mortgage a few times, but it wasn't nearly enough to buy a home that would fit his family.
His search became more urgent as his family grew. Hunde and his wife Martha have a daughter Hana, age 16, and a son Jacob, age 2—and they were expecting their third child in early 2018. They had been living in a one-bedroom apartment, and it was getting more and more difficult.
"Everything was in the same room," Hunde said. The family shared the one bedroom to sleep, and crammed everything else into their main living space. "Hana wanted to study in a quiet space, but she couldn't find anything. Sometimes she'd study in the bathroom. I felt like a bad dad. Why am I not giving a house to my family?"
One day, Hunde walked into Twin Cities Habitat for Humanity. He went up to the front desk and said he wanted to buy a home with Habitat for Humanity. To his surprise, they didn't say no. Instead, they directed him to Model Cities, a trusted Referral Partner of Twin Cities Habitat. There he could receive the financial coaching he needed to prepare him for homeownership, and he could come back to Habitat when he was ready.
"I didn't even have hope that I could buy a house because I thought Habitat would be like the other banks before," Hunde said. "But Habitat stands for humanity!"
After a few months with Model Cities, Hunde was ready. They referred him back to Twin Cities Habitat for some additional coaching with Jessa. She helped him work toward raising his credit score and answered all his questions.
"One day, Jessa said, 'Hunde, I think you're going to be part of the Habitat family.' You don't know what kind of joy I felt that day!" Hunde said. He responded to Jessa with a big "Hallelujah!"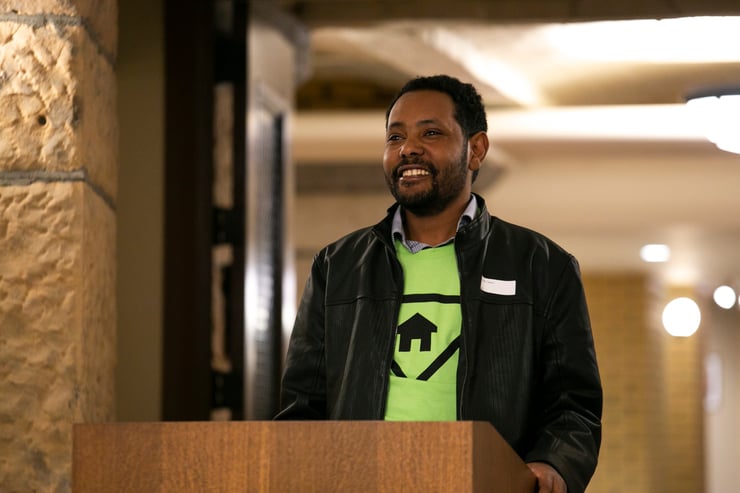 Hunde speaking at Habitat on the Hill - MN 2018.
Next, Hunde went through the homeownership classes that all Habitat homebuyers undertake. He was amazed that he could attend the classes even before he signed his mortgage—for Hunde, that showed the commitment from the Habitat team to make sure he'd be a successful homeowner.
"The education I got from Habitat is the most important education I've ever received," Hunde said. "If I didn't have that education, I would not be able to make it in my house."
When he was ready, he met with Maureen, Habitat's Community Loan Officer, to go over his mortgage. Like Jessa, she answered all of his questions quickly and thoroughly.
"Everywhere I went, Habitat staff felt like my big brother and sister," Hunde said. "Everybody is family. Everybody is welcoming. They sit down and listen to me—regardless of my accent."
When all was said and done, Hunde was qualified to buy a home of his choice on the open market using a Habitat mortgage*. Although he lived in St. Paul, he wanted a home in Lakeville ("the greatest city in Minnesota," he says). Eventually, he found the perfect home on his own. It had four bedrooms—one for Hana, one for Jacob, one for the new baby, and one for Hunde and Martha.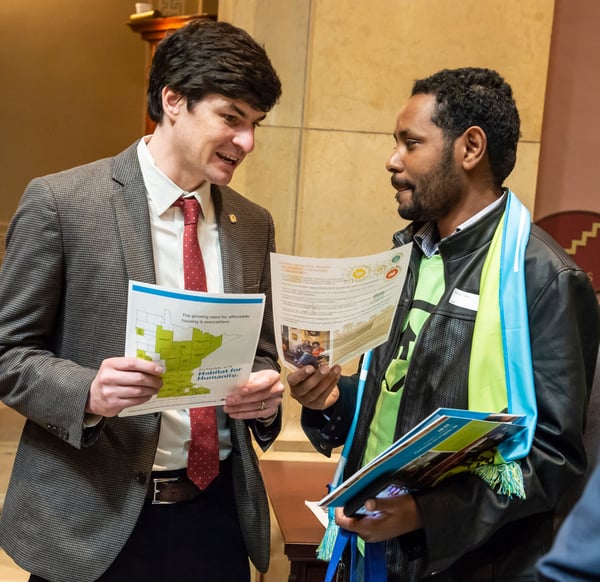 Hunde talking to his Senator at Habitat on the Hill.
Hunde closed on the home in December. After some work on the home, the family moved in on February 21, and the baby was born on February 28.
"Now, I feel the pride of owning a home," Hunde said. "I sit down in my backyard on my porch, putting my feet up. I finally feel like I'm a full citizen of the United States."
"Today, I urge everybody to stand with Habitat for Humanity. I too will stand with Habitat for Humanity as long as I live in Minnesota."