By guest blogger Nick Crowley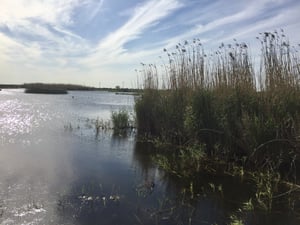 If you'd like to read the first AmeriCorps Texas trip update, click here.
After an eventful two days of road tripping, we finally arrived at Shepherd's Inn in Port Arthur, Texas, which is a hospitality center for displaced families, disaster response groups, and people visiting loved ones at nearby hospitals or prisons. After a quick tour from our gracious host Patsy, we went straight to bed so we could wake up rejuvenated and ready to work.
Once we'd all had our fill at breakfast the next morning, we headed out to the Jefferson County Habitat for Humanity office to check in and find out what we'd be doing for the next four days. Our group was assigned to assist with a project in the nearby city of Orange. The homeowner, Jerry, is a disabled U.S. Army veteran who did three tours in Iraq. His home flooded during Hurricane Harvey in August 2017 and it had to be completely gutted. He has been living in a shed in the back of his house ever since.
Other volunteer groups have been working on Jerry's home for quite some time, so we were tasked with some finishing work inside the house. When we first arrived, the floor was a concrete foundation, and by the time we left the whole house had a beautiful floor. Besides flooring, we worked on other odds and ends tomake sure Jerry could move back in as soon as possible. We were the very last volunteer group in Jerry's home, so it marked an especially exciting time for Jerry and Jefferson County Habitat.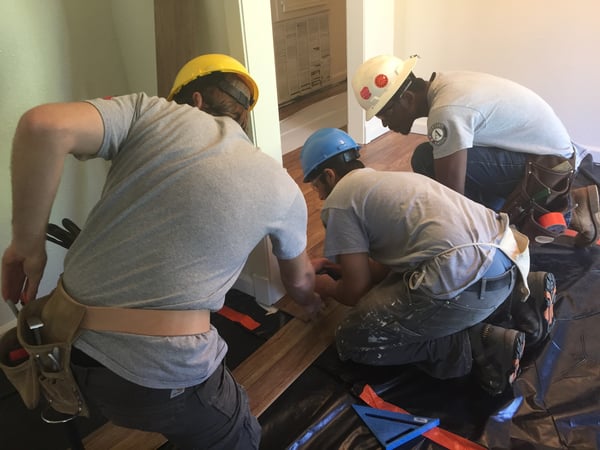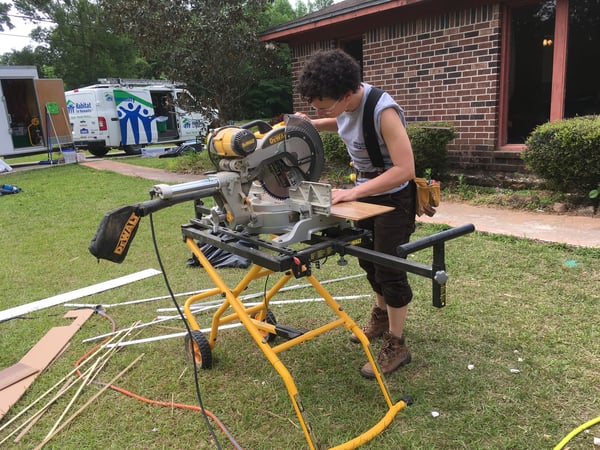 While we worked hard all week, we also made sure to explore the Golden Triangle of Texas during our free time. After our first day, we checked out Sea Rim State Park, which is a beautiful nature sanctuary right on the gulf. Although it is a natural habitat for alligators, we didn't see any that day; however, we really enjoyed the different birds and crabs that we did see.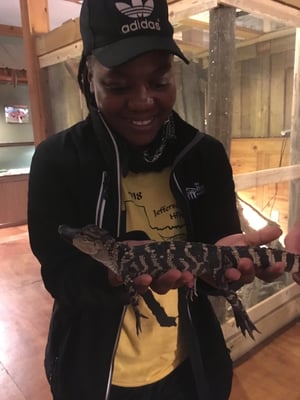 No trip to the South would be complete without some two-stepping, and we were fortunate to meet a dance instructor on our second night who taught us some moves (there's a lot more to it than the name suggests), and we all tore up the dance floor. To get our gator fix on the last day in Texas, we headed to Gator Country after working on-site. The staff put on a great show and we were able to hold and feed different alligators. Luckily, we all made it back to the Shepherd's Inn unscathed. #Blessed.
During some of our nightly reflections we discussed the wide-ranging effects of natural disasters and the responses by various organizations. It's easy for us to feel empathetic towards people in Texas for a little while and then let it slip from our minds as we get wrapped up in our daily lives. For the people who went through this though, it is something they'll never forget.
Jeremy, a staff member from the Jefferson County Habitat affiliate, was describing how his house was completely destroyed by the flooding. For months he and his family were living in a hotel over an hour away from where he worked and went to school full time. He decided to sell his house and move somewhere a little more protected from flooding so that his family wouldn't have to experience anything like that again. While that was the solution for Jeremy, many people decide, or are forced, to rebuild their home and stay right where they are. Regardless, it was inspirational to see how the community of Port Arthur worked together to help each other rebuild. Our time in port Arthur has been really special, and we were all so excited for the rest of our trip!