Warren and Mary Lynn Staley have given generously to Twin Cities Habitat for Humanity (TCHFH) since 1993. This past Friday the couple received the Outstanding Individual Philanthropist Award from Minnesota's Association of Fundraising Professionals (AFP MN). This award recognizes "individuals or families who have demonstrated outstanding civic and charitable responsibility and generosity" in our community. And the Staley family is an incredible example of just that.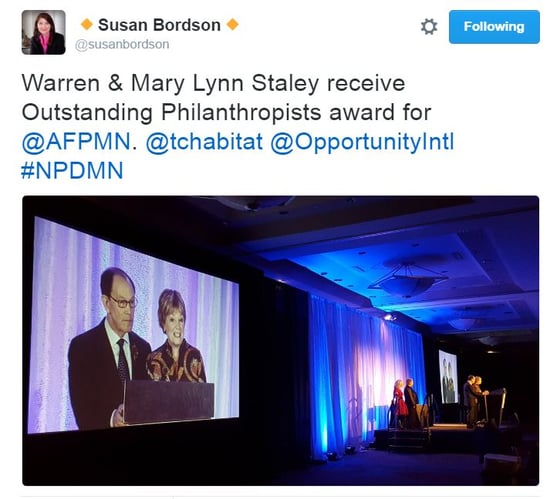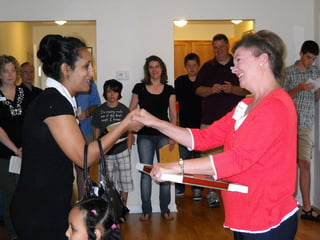 In 2004, they spent a week building Habitat homes in Mexico and returned with a new level of passion for the work of Habitat for Humanity. After Warren retired as CEO of Cargill in 2008, they sponsored their first home in the Twin Cities, with an additional gift to fund Habitat's homebuyer education programs.
In 2009, Twin Cities Habitat launched A World of Hope: It Starts at Home comprehensive campaign to raise $36 million over four years. The Staleys served as campaign co-chairs, and their lead gift was the largest Twin Cities Habitat had ever received from an individual donor. The couple inspired and reached out to others in their network for support, resulting in several other large gifts to the campaign. A World of Hope: It Starts at Home was successfully concluded in 2013, and exceeded original goals by raising a total of $37.6 million.
In 2012, Mary Lynn was serving on the Twin Cities Habitat Board of Directors, when our organization launched a capital campaign to fund a New Home for Habitat. This campaign would provide the funds needed to create a new facility for Habitat staff, volunteers, and program participants, and replace Habitat's former offices, which were cramped, and housed in a run-down converted warehouse. The Staleys were the highest individual contributors to the New Home capital campaign, and their gift inspired other Board members to stretch and go above and beyond with their giving as well.
In addition to their campaign support, the Staleys also support Habitat's annual Hard Hat and Black Tie gala, with the goal of inspiring other guests to make donations during the event. With every gift they make, the Staleys remain gracious and incredibly humble— never asking for credit or recognition for their generous philanthropic gifts. They were persuaded to accept the recent award from AFP only after they learned that recognition of gifts like theirs often times serves as inspiration for others to begin making gifts of their own.
"Mary Lynn and Warren are humble, kind and generous leaders who not only provide strategic guidance for our work, but are absolutely passionate about partnering with more families," said Sue Haigh, President and CEO of Twin Cities Habitat. "They radiate a joy in giving that is contagious!"
Beyond their involvement with Habitat for Humanity, the Staleys quietly continue their philanthropic giving in support of educational and other charitable causes both locally and abroad.
The Staleys have made philanthropy the cornerstone of their retirement and seek to inspire others through their example. We are grateful for their continued support of Habitat for Humanity's mission in the Twin Cities community, and applaud the AFP MN for awarding them with such a well-deserved recognition last week. Congratulations, Warren and Mary Lynn!