Presents, cake, balloons, friends, family - Who doesn't love their birthday? Every year we are lucky enough to be reminded of the lives we have touched and the people who care about us. And a couple of presents isn't always a bad thing, right? But there are those here in the Twin Cities who can't even afford proper shelter, much less a proper birthday with gifts.
"I'd rather you make a donation to Habitat or come out and volunteer with me than give me a birthday card."
Enter Julie Loomis. For the third straight year, Julie has organized a build day for her birthday. But Julie's involvement with Habitat really started about ten years ago on a Global Village trip to Costa Rica. In a "life-changing" trip there, Julie developed her passion for volunteering and helping to ensure that everyone has access to the basic need of affordable housing. It also didn't hurt that she got to be in a beautiful country like Costa Rica. Her favorite memory there? Starting (and losing!) a water fight with some of the local construction crew during her last build there.
For Julie, Costa Rica was the perfect mix of fun and getting things done to help others. It let her and other volunteers provide people with the basic human need of a safe place to call home. At her business, Simply Neat, that helps people get rid of the clutter in their lives and get organized, Julie knows the difference between "wants" and "needs", and knows that proper housing is something that can't be done without. It is a need that we must all help to fill.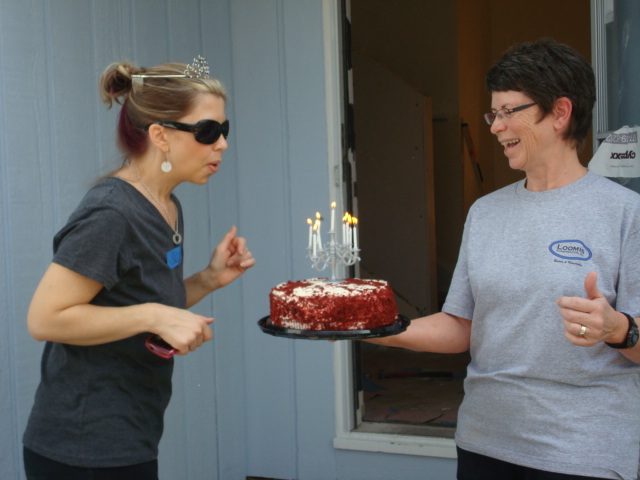 Julie's involvement with Habitat continued after Costa Rica, and three years ago, she decided to do something different with Habitat. Some might see working hard hammering nails, painting, and labor as something to be avoided on a day dedicated to your birth, but not Julie. She decided to have her birthday on a build site so that she could get others to help and do something good for her birthday. This year, you can find her out painting a house for a new homeowner while wearing her birthday tiara (because every girl is a princess on her birthday, right?). But no matter the work nor the weather, Julie plans to do this for every birthday in the future as well.
"It's a statement to my beliefs", says Julie, "volunteering shows love".
And Julie has never had problem getting volunteers out on site for her birthday. It's something different that a large group of friends can do and it's a testament to the reward that helping your community can bring. The help that she provides Habitat is two-fold; she not only provides the work and the volunteers for her build day, but she also helps raise money from her friends and family to support that build day. She's not just donating her time, but her birthday presents as well! In her selfless act, Julie can do so much good for people around our community.
Would you like to find out how to donate your birthday to help provide your neighbors with safe, decent housing?