On May 22, 2014 a crowd of volunteers, business people, neighbors, friends and family came together at 613 Gotzian Street in St. Paul to celebrate the home dedications of three families. Tenisha Allen along with her daughter and sister celebrated their new home alongside Ker Her & Doua Xiong and Lupita & Nicolas Lopez and their families, who were also receiving homes in St. Paul.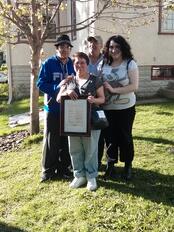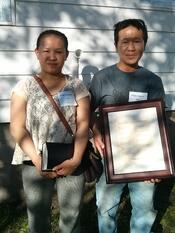 Lupita & Nicolas along with their family are very excited to be purchasing their new home as their current residence does not accommodate their family. Their youngest son David (14) has autism which makes safety a significant issue. This new home will allow the family to keep David safer in addition to providing Maria (17) and Jesus (15) with their own room. Originally from Cuba and Mexico the family hopes to save up enough money to take their family to visit.
Ker Her & Doua Xiong have three children with another child on the way! Their children Shoua Na (4), Coua (2) and Nong (1) will have the opportunity to grow up in a safe home where they can play, learn and grow as a family. Originally from Laos the couple came from a refugee camp to make the U.S. their home. They hope to save enough money to decorate their home and make it beautiful. They will be moving into their St. Paul house with their family and Ker's mother.
Tenisha Allen moved to Minnesota when she was younger. Now as an adult Tenisha wants to provide her daughter Salem (6) with a safe place to laugh, play outside and eat together. At the dedication Site Supervisor Zack Zoul, , said the entire team working on Tenisha's house was inspired and motivated by her graciousness and optimism. Zack said, "she was grateful and appreciative of every piece of the project and was willing to step in and help when needed." He continued, "she even fed us on multiple occasions, she truly deserves this house."
Merrill Lynch/Bank of America was the primary sponsor for this site and provided some of the volunteers who worked on the house. Every homeowner was extremely grateful for the generosity through time, finances and prayers. As Mark Turbak, of TCHFH, concluded "The power of homeownership is transformative."
Thank you to all the volunteers and contributors who made these homes possible!
Welcome home families and God bless you as you start this new journey!
-Article contributed by Amanda T., Social Media Volunteer