Deborah Moore has worked hard her entire life to overcome limiting circumstances. Deborah has transitioned from welfare to full-time employment, and public housing to homeownership all as a single mother.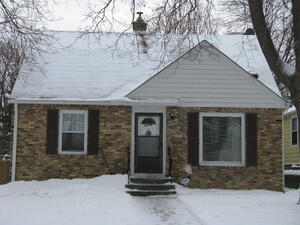 Since owning her home, Deborah has invested time and energy into creating a safe and comfortable space for both her family, and for the business she runs as a licensed child care provider. When Deborah discovered that her home had lead paint, she knew that she could not complete the necessary repair work on her own.
Deborah found the A Brush with Kindness (ABWK) program through a search online. Not believing that anyone could provide the assistance she really needed, Deborah was shocked when she learned that she had been accepted to receive help from ABWK. Deborah describes working with the A Brush with Kindness volunteers as one of the most "happy and exhilarating experiences" of her life, she was impressed by the energy of the young volunteers that showed up each day excited to work.
Without the stress of lead paint threatening her family's health, Deborah can direct her full attention toward Friday night family dinners, and the Christian Counseling classes she is taking as a recently ordained minister. Deborah says that her "eyes are big!" she is excited about her future and all of the positive things in her life, and she is grateful for the hand-up A Brush with Kindness gave her that will allow her to keep moving forward.