One of the steps to becoming a Habitat homeowner is to complete sweat equity hours. For those who don't know, we require our future homebuyers and their families to volunteer 300-500 hours of their time building their own home or volunteering at other sites around the Twin Cities. Through this work, they directly have a hand in building their home and their future.
We recently caught up with future Habitat homeowner Zemenu and his eldest son Kedamawi as they were helping to build their home in Woodbury. Though they came into this process with no construction experience, they are learning fast and enjoying their experience on-site, but that's not to say they're experts just yet. They both claim an affinity for using hammers and nails because "it's harder to really mess up" than other tasks. But as long as they don't have to deal with heights, they enjoy being out on site. "You can see the progress of your own house while working on it", says Zemenu. And that's something that many homeowners don't have; the satisfaction of helping to build their own house and the pride of putting your own sweat into the work.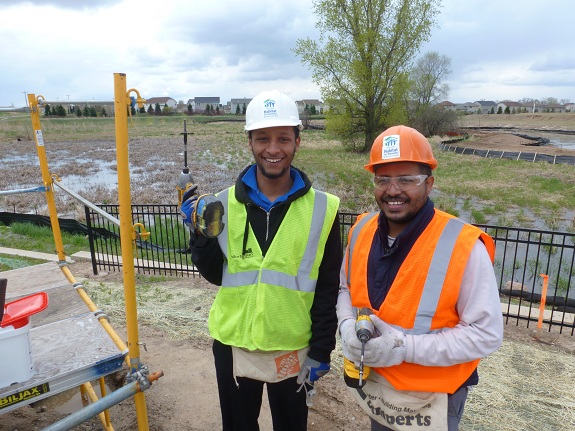 Zemenu, his wife Tadelech, and their three sons will be joining a community with a strong appreciation for Habitat and the work they do. To date, Habitat has built more homes in Woodbury than any other city in the Metro area. Their living situation will be a world of improvement over their current apartment as well. In addition to being unaffordable, their apartment is so poorly maintained that they even have to run their air conditioning in the winter (yes, a Minnesota winter) because it's so hot all the time! The money they'll save by paying their lower, monthly, affordable mortgage instead of renting an apartment means that Zemenu will have an easier time paying for college for Kedamawi (he's currently enrolled at Minneapolis Community and Technical College) and saving for his other two sons Biruk and Noah. Also, it means more time together in a safe community. Zemenu specifically looks forward to being able to barbecue outside with his new neighbors.
At this time, Kedamawi and his family have completed 48 of their sweat equity hours, so they have plenty of time to learn some more skills! Skills they can use to keep up their new home when they move in. Click below to learn more about the Habitat model and homeowner application process.