We're excited to share that we have a new easy and accessible way for our families to apply to the A Brush With Kindness program! Previously, the only way to submit the application was to print it and fax, mail or bring it in to the Habitat for Humanity offices. Now, submitting an application is as easy as visiting the website!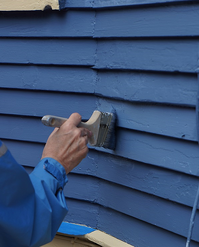 A Brush With Kindness provides assistance to 120-130 homeowners each year that are struggling to maintain a safe and quality place to live. The program preserves homeownership in the Twin Cities, and has helped families with everything from painting restoration to stair reconstruction.
The application process is the first step applicants go through in order to receive help with their home repairs and restoration needs. Applicants must complete the application, and provide proof of homeownership, a form of identification and proof of income for individuals living in the home over 18 years of age. (Click here for a full list of homeowner qualifications). Once a complete application is submitted, a staff member may visit the home to further assess needed repairs to determine the scope of work and fit within the program.
We are extremely excited about this new application option, as it allows for greater access for families that have the ability to apply online. The digital application is user-friendly and requires the same information as print version. Families will continue to have the ability to allow someone else to help them fill out the online application, as long as the individual's information is included in the family helper section of the application.
Hard copies of the program application are still available by request or can be found on our website.